Three doctors recruited to a 'new-model' medical centre
January 28, 2011
HIGH RIVER – Three family doctors have committed to practising in High River over the next five years at a new medical centre designed to improve access to primary care and reduce emergency department pressures in the southern Alberta town.
Drs. Nicole Roper of Calgary, Shauna Mercer of Newfoundland and Sarah Bell-Dingwall of Ontario will each open practices at the Charles Clark Medical Centre when the facility opens this fall.
There is space for five more physicians, if needed, over the next five years.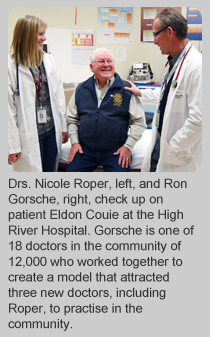 The newly recruited physicians, recently trained in the Rural Alberta South Family Medicine Program, have agreed to provide services at the High River General Hospital.
They will be joined and mentored by established local doctors, who are the driving force behind the medical centre project. The 18 local physicians used their money to fund construction of the $6 million project and forged partnerships with the Town of High River for land and the Foothills Municipal District for financing, together with the hospital foundation and the local Rotary club.
The centre offers new physicians lower rents, zero start-up costs and valuable mentoring partnerships, providing they commit to practising in High River until 2016.
"The physicians we have recruited are needed right now but they will hopefully recruit their friends and our town should have enough doctors to meet the needs of a growing and aging population for years to come," says Dr. Ron Gorsche, one of the High River physicians who spearheaded the project. Dr. Gorsche and four of his experienced colleagues will also open offices in the new centre, so they will be nearby to mentor the new physicians.
High River General Hospital does not have specialized emergency doctors or hospitalists; emergency visitors and inpatients are seen and treated by the town's family physicians.
Dr. Roper says she's excited about the challenge of treating patients at her office, performing low-risk obstetrics, caring for hospital inpatients and working in the emergency department. She's grateful she can apprentice with doctors who have worked in the town for years.
"As a new grad, it's important to have support from more experienced physicians, especially working in a town like High River, where I will see many different situations," says Dr. Roper.
The Charles Clark Medical Centre – named for the father of former Prime Minister Joe Clark, a High River native – will also include a walk-in clinic, an assessment centre and diagnostic imaging capabilities, boosting access to primary care for the town's 12,000 residents.
This will, in turn, reduce local emergency department pressures, according to Dr. Keith Spackman, chief of staff at High River Hospital.
"Our emergency department handles more than 20,000 annual visits and about one-third of those coming to emergency have no family doctor or don't have a doctor who has admitting privileges," says Dr. Spackman. "As a result, we see lots of people in emergency with minor problems because they have nowhere else to go."
Once the medical centre opens, patients admitted to hospital without a family doctor will be paired with one of the new physicians, who will provide care in the hospital and in the community after discharge.
Three doctors recruited to 'new-model'
Meanwhile, the walk-in clinic and assessment centre, operating under the direction of the local Rural Primary Care Network, will employ physicians, chronic care nurses, a pharmacist, a social worker and a cardiac assessment team to help patients manage their serious health conditions and prevent crises that would require emergency care.
"The whole purpose of this building is to take the burden off the doctors at the hospital," says
Dr. Gorsche. "If we are going to recruit doctors, we want them to admit patients to the hospital, cover our emergency department and deliver babies.
"We think the Charles Clark Medical Centre will significantly improve access to health services for our community. What we're doing is a new model of health care delivery. I like to call it the High River Model but I'm confident it would work in communities across the province."
Alberta Health Services is the provincial health authority responsible for planning and delivering health supports and services for more than 3.7 million adults and children living in Alberta. Its mission is to provide a patient-focused, quality health system that is accessible and sustainable for all Albertans.
- 30 -