Alberta leading international study of CPR feedback device
November 21, 2012
CALGARY – An international research project to determine whether new technology can help save children's lives during cardiac emergencies is being led through a partnership between Alberta Health Services and the University of Calgary.
Roughly the size of a credit card, the CPRcard™ is placed at the centre of a patient's chest before cardiopulmonary resuscitation (CPR) is administered. During chest compressions, an LED display provides real-time information that lets emergency responders and health care providers know whether CPR is being performed most effectively.
"We will be studying how well these new devices function in the hands of pediatric health care providers during simulated cardiac arrest," says Dr. Adam Cheng, principal investigator of the study, an associate professor in pediatrics and Director of the KidSIM-ASPIRE Simulation Research Program at Alberta Children's Hospital (ACH). "While still in the evaluation stage, this technology has tremendous potential to improve outcomes from cardiac arrest."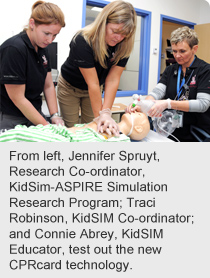 Properly performed CPR can significantly increase the odds of survival for children in cardiac arrest, says Dr. Cheng. Previous research has shown CPR skills tend to deteriorate about six months after training, which means a device like the CPRcard™ could meet a vital need.
ACH will serve as headquarters for the international project, involving 10 sites that include the Stollery Children's Hospital in Edmonton; Johns Hopkins Children's Hospital in Baltimore, Md.; the SYN:APSE Simulation Centre at Yale School of Medicine in New Haven, Conn.; and the Bristol Royal Hospital for Children in England.
Across all sites, the project will involve more than 300 health care providers, including nurses, medical residents and students. At least 12 teams of health professionals in both Calgary and Edmonton will be assessed with and without the use of the CPRcard™, which is still in the experimental stage and hasn't yet been approved by Health Canada for evaluation in treatment of human patients.
During the initial study phase of the research project, health providers in Alberta will test the technology on sophisticated, lifelike mannequins that simulate breathing, pulses, blood pressure, speech and sound; replicating a child's response to illness, injury and treatment.
"We'll run scenarios in a simulated environment to see how teams respond during a realistic cardiac emergency," says Dr. Jon Duff, a critical care specialist who is co-ordinating research on the CPRcard™ at the Stollery. "Although these are simulations, they are incredibly realistic."
A second component of the project will be the development of a training program, followed by testing the use of the card on simulators in rural settings throughout Alberta.
"It should come as no surprise that Alberta has the expertise and infrastructure to lead a project of this scale and importance," says Dr. Kathryn Todd, Senior Vice-president, Research. "Every day, Alberta researchers participate on an international scale to further the frontiers of knowledge."
Dr. Cheng is also the chair of the International Network for Simulation-based Pediatric Innovation Research and Education (INSPIRE), and an associate professor at the University of Calgary.
The Canadian Institutes of Health Research and the Heart and Stroke Foundation are providing funding for the project. The KidSIM Lab at ACH is funded by the community through the Alberta Children's Hospital Foundation.
The CPRcard™ is produced by Laerdal Medical, a global corporation dedicated to helping save lives through the advancement of resuscitation and emergency care.
Alberta Health Services is the provincial health authority responsible for planning and delivering health supports and services for more than 3.8 million adults and children living in Alberta. Its mission is to provide a patient-focused, quality health system that is accessible and sustainable for all Albertans.
– 30 –