Edmonton cancer centre welcomes Mother Nature
November 21, 2012
Healing Garden to provide natural comfort for patients
Story by James Stevenson
EDMONTON – Cancer survivor Debra Hall-Lavoie can personally attest to the therapeutic powers of Mother Nature.
A few years ago, the Edmonton woman was an inpatient at the Cross Cancer Institute and, though her care was exceptional, she yearned to go outside and enjoy the trees, plants, grass and sunshine.
"I spent six weeks as an inpatient and still remember that my view of the real world was limited to a rooftop where a small seedling heroically attempted to grow," says Hall-Lavoie.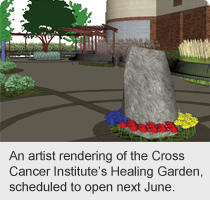 "When I was finally able to step outside and enjoy the fresh air, it was so remarkable; feeling the sun on my face and being amongst nature felt like the best cancer therapy ever."
Soon cancer patients like Hall-Lavoie and their visitors will be able to soak in nature at the Alberta Health Services cancer centre. A Healing Garden, to be located on the west side of the cancer centre. is expected to open next June, providing an appealing environment for patients and families to interact with nature and get respite from their cancer journey.
The $600,000 wheelchair-accessible space will include two plaza areas and a small private seating zone surrounded by vegetation and shrubs.
"A healing garden will be a wonderful gift to cancer patients," says Hall-Lavoie, now a board member of the Cross Cancer Institute Volunteer Association (CCIVA), a 350-people group that ensures patients, families and visitors are supported and feel welcome during their time at the hospital.
The garden is being built through a partnership that includes the CCIVA, which proposed the project; Delnor Construction Ltd; and the Alberta Cancer Foundation.
"The Alberta Cancer Foundation eases the journey for Albertans facing cancer and this healing garden is one of the ways we can do that," says Myka Osinchuk, CEO of the Alberta Cancer Foundation. "We are pleased to be a partner in the creation of this garden and privileged to invest our donors' dollars in an initiative that will provide enhanced patient care at the Cross Cancer Institute."
Ron Hinz, Principal of Delnor Construction, says his firm is privileged to be part of an initiative he calls inspirational.
"The Cross Cancer Institute does so much to provide hope to its patients – for us to be able to help provide comfort to those who need it the most is a truly humbling experience," Hinz says. "Delnor, with our subtrade and supplier partners, are proud to donate a significant portion of the construction costs to make this project a reality."