Northern Alberta students draw sobering conclusions
November 27, 2012
Artwork added to liquor bags as part of AHS holiday initiative
Story and Photo by Scott Seymour
They are long, skinny brown paper bags used to carry a bottle of alcohol.
But, for the next few weeks in the Grande Prairie area, they will also carry colourful artwork and powerful messages for customers at liquor stores during the holiday season, thanks to an ongoing Alberta Health Services (AHS) initiative.
Earlier this month, about 3,000 paper liquor bags were distributed to schools in Grande Prairie, Sexsmith, Clairmont, Bezanson, LaGlace, Hythe, Wembley and Ridgevalley.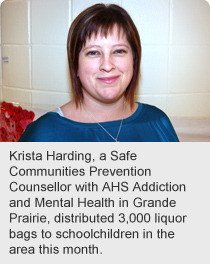 Local elementary and junior high students drew addiction-related prevention messages on the bags, which were later sent to participating liquor stores in Grande Prairie, Sexsmith, Clairmont and Hythe, which will use them to bag customer purchases during the holiday season.
"We're always looking for a way to bring powerful message to adults and messages from kids are always impactful," says Krista Harding, Safe Communities Prevention Counsellor with AHS Addiction and Mental Health.
Mostly, the children's messages focus on alcohol addiction and the issues connected with it, including drinking and driving. Harding says those messages are particularly poignant during the holiday season.
Christina Friesen, a nine-year-old Grade 4 student at Ecole St. Gerard, said she only needed a few minutes to determine what she was going to draw on a bag.
"My design is a picture of a car and a beer bottle on it and both are crossed out," she says. "If you drink and drive, it can cost you your loved ones."
This northern Alberta initiative has been steadily grown, from about 900 participating students five years ago to 3,000 this year.
"We get really good participation from the stores, too," says Harding. "Every year, they're always waiting for us to come by and pick up the bags. And when they get them back with the drawings on them, staff at the stores always read them and comment about them."
For Grade 9 student Emily Bardak, drawing drinking-and-driving messages holds special meaning. Her father, a paramedic with AHS Emergency Medical Services (AHS-EMS), is often first on the scene at motor vehicle crashes.
"He talks about it a bit but not very much," says Emily, 14.
"When I draw on these bags, I'd always try to do a message that you won't only be hurting yourself, but you could be hurting a loved one and no one wants their loved ones taken away from them."