Where to Start
Whether you just need a little bit of help at home, access to other programs and services that we offer, or the more structured support of facility living, it all starts with dialing 811 or emailing continuingcare@ahs.ca and speaking with a health professional.
What Happens Next?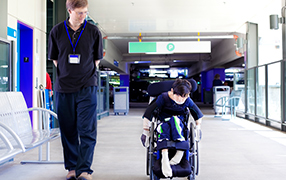 If you or a loved one needs help, AHS will help you find it. AHS has an array of services available to provide the supports you need.
You will be asked some questions about your current situation. Based on that, the health professional at the Access Centre will recommend one of two things:
Self referral to private, community based services. In this case, you will be given information about who to contact.
Assessment by an AHS Case Manager. The case manager will work with you to perform a full assessment and determine your unmet needs.
What Types of Care are Available?
The outcome of your assessment will help your case manager to determine which type of care will best meet your needs. There are different streams of living options in continuing care:
For more information on the steps after assessment, please see Continuing Care Choices.
Moving to a Designated Living Option
If you can no longer safely manage in your own home or living option, you may consider moving to a living option that provides an increased level of care. Moving to a designated living option (what is designated supportive living?) is a significant life event that requires support. Your Case Manager will provide an assessment, and be available to help guide you through the process and answer any questions.
Information and Decision Making Guides:
Raising a Concern
You have the right to raise a concern at any time during assessment, exploration, negotiation, offer, and waiting for service. Concerns can be raised to a seniors health representative such as your case manager, or to AHS Patient Relations.
Contact the Patient Relations Department by telephone, fax or mail:
Telephone: 1-855-550-2555
Fax: 1-877-871-4340
Mail:
Patient Concerns Officer and Executive Director, Patient Relations
Mail Slot #57, 11111 Jasper Avenue
Edmonton, Alberta T5K 0L4