About Us
The Mazankowski Alberta Heart Institute has become one of Canada's leading heart centers in the prevention and treatment of heart disease. It offers comprehensive cardiac surgery, cardiology services and patient education. The Mazankowski is the nucleus for highly skilled cardiac care professionals, researchers and educators. It is also the training ground for the cardiac leaders of tomorrow.

Adult and pediatric patients from Alberta as well as western and northern Canada are now benefiting from the highest level of patient-centered care, state-of-the-art diagnostic and treatment technology, and leading edge research at the Mazankowski Alberta Heart Institute.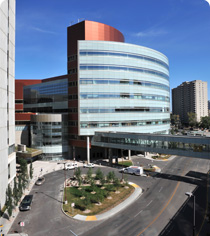 There are five floors to the Mazankowski Alberta Heart Institute, each level specific to certain services and designations for optimum efficiency. This promotes greater teamwork and easier consultation among staff and provides patients with streamlined access to many specialized services and clinics. The following is a brief overview of the services each level has to offer.
Area Map
Level 0
Shaw 3-i Auditorium interactive 100-seat digital classroom offers real-time consultation with the global cardiac community
ABACUS - Alberta Cardiovascular and Stroke Research Centre for research studies and clinical trials
Level 1
Street level entrance to the heart institute
Healthy Trendz cafeteria
Donor recognition wall
Cardiac Rehabilitation street access
Patient Education Centre
Level 2
Information Desk and central waiting area
Cardiac Catheterization Laboratories 2A5/2A6
Electrophysiology Laboratories 2A5/2A6
Heart Function Clinic 2A6
Diagnostics (Stress testing, ECHO laboratory, pacemaker/defibrillator clinics, Cardiac MRI 2A7
Cardiac Rehabilitation Unit - elevator access 2A7
Pedway access to East Parkade Public Parking - 4th floor
Cardiac Outpatient & Labs 2A5, 2A6, 2A7
Level 3
Cardiovascular Intensive Care Unit 3A7/3A8
Family Waiting Room – located right of elevators
Surgical Suites/Digital Operating Rooms – 1 pediatric, 4 adult 3A9
Level 4
Cardiovascular Inpatient Surgery Units 4A5/4A6
Administration offices 4A7/4A8
Guru Nanak Dev Healing Garden for patients, families and staff
Level 5
Cardiology Unit 5A5/5A6
Coronary Care Unit 5A7
Percutaneous Coronary Intervention Unit/ Short Stay Unit 5A8
The Heart Institute supports a full range of complex cardiac care. Patients receive the highest level of care through the many specialized outpatient clinics and services, the diagnostic and non-surgical treatment areas, complex cardiovascular surgery, and four inpatient units. While treating and caring for patients, the Mazankowski Alberta Heart Institute provides quiet rooms with large windows to promote healing and recovery. Greater space allows for easier use of technology at the bedside. Improved call systems and room-side nursing stations help staff provide more effective care.

The Heart Institute also strongly supports cardiovascular research. It provides a shared environment for patient care and research through The Alberta Cardiovascular and Stroke Research Centre (ABACUS), one of the many research elements in the Heart Institute. By bringing clinicians and researchers together in a shared environment, they are better able to integrate new knowledge and emerging treatments to advance patient care.