Top clinician-scientist Raggi joins Mazankowski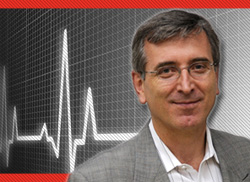 Globally respected researcher brings new leadership, vision to heart institute
Alberta Health Services and the Faculty of Medicine & Dentistry at the University of Alberta are delighted to welcome Dr. Paolo Raggi as the Academic Director of the Mazankowski Alberta Heart Institute, Section Chief, Cardiology for the Alberta Health Services and Professor of Medicine at the University of Alberta.

As a clinical scientist, Dr. Raggi's leadership role with the Mazankowski Alberta Heart Institute represents the partnership between the provincial health authority and Edmonton's clinical, teaching and research university. He became endowed research chair in cardiac research June1, 2012.

Recently a professor of Medicine-Cardiology and Professor of Radiology at Emory University in Atlanta, GA, Dr. Raggi's clinical practice focused on the interpretation and integration of cardiac imaging directed towards the diagnosis of coronary artery disease, congenital cardiac anomalies and the evaluation or cardiac function and viability.

His distinguished research career has encompassed preventive cardiology, surrogate markers and imaging of atherosclerosis, and the important interactions between end-stage renal disease and the heart. His research has been internationally recognized through publications in leading medical journals including the New England Journal of Medicine, Archives of Internal Medicine, Circulation, Journal of the American College of Cardiology, Kidney International, American Journal of Kidney Diseases, Radiology and Chest.

Dr. Raggi serves as an Associate Editor of two peer-reviewed journals, sits on the editorial board of two other publications and consults for other scientific medical journals. He played a lead role in the diagnosis and prevention of atherosclerosis as founding president of the Society of Atherosclerosis Imaging.

Sought after as a visiting professor and speaker in major academic institutions and at international scientific meetings, he has also received a number of teaching awards.

The arrival of Dr. Raggi and his vision for the Mazankowski's future unquestionably translates into superior care for Albertans and greater international recognition for the Mazankowski Alberta Heart Institute.