healthy Trendz café
In early 2004, while redeveloping existing retail food services within its hospitals, Alberta Health Services began building a healthy eating brand to meet evolving consumer needs. The healthy Trendz is based on offering consumers healthy food options, at reasonable prices, through exceptional service in a fresh and exciting décor.
The Trendz brand has now evolved into a variation of outlets such as the healthy Trendz café which opened at the Mazankowski Alberta Heart Institute in 2009.
The Trendz menu program features healthy food and beverage options by blending industry food trends with healthy eating principles. Trendz menu offerings meld the ideas of in-house culinary staff, vendor partners and NFS Dieticians.
The healthy Trendz café is located on the main level of the Mazankowski Alberta Heart Institute ("AHI"). It blends a warm, exciting décor with inspiring heart healthy menu items sold at competitive market prices.
The AHI healthy Trendz café features digital menu boards, a new fresh and tasty menu, an upscale specialty beverage program, a retail program and the introduction of biodegradable "to go" packaging. The Trendz retail program features an authentic Italian whole-bean bagged Fantini coffee beans, Red Espresso and Trendz reusable mugs. Trendz is committed to environmental responsibility, and this next progression of the Trendz brand highlights the use of high efficiency kitchen and unique Fantini coffee cups for in-house consumption of hot beverages.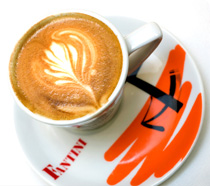 The AHI healthy Trendz café menu features low-sodium items prepared and finished on site to ensure the highest level of freshness and quality control. The heart healthy menu features in-house chef prepared menu items that have been developed with support from out vendor partners with the 6-step to a healthier you program from the cornerstones of the new fresh and tasty menu.

Health conscious consumers are demanding healthier food options to cater to their needs for nutritious eating and proper weight management. The retail food service industry has responded by adding healthy meal options to their existing menus but it is difficult to find a concept that has healthy eating at its core.