Seniors Health
Strategic Clinical Network
The Seniors Health Strategic Clinical Network brings together a diverse group of stakeholders – clinicians, researchers, patients, families, and decision makers – to reshape and improve health care services and practices that enable seniors to optimize their health, well-being and independence.
We are working on the most effective ways to meet the healthcare needs of Alberta's seniors based on evidence and best practices within Alberta and around the world.
What's New
Coming Soon! Provincial Conference: Innovative Primary Care Models for Seniors' Health.
Heighten your awareness of frailty, its impact on the health system, and the essential role of primary care. Read more
Competition deadline extended! The SH SCN Scientific Office is pleased to announce the Call for Applications for a Master's Studentship Award jointly funded by the Seniors Health SCN and the Emergency SCN. The deadline for applications is September 29, 2017 . Read more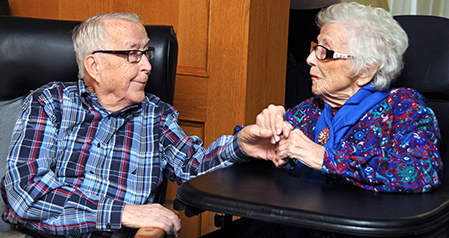 Quick Links
Contact
Email: seniorshealth.scn@ahs.ca
Getting Involved

Ideas and input of all stakeholders, including patients and families, are welcome:

To learn more, or become more involved, contact seniorshealth.scn@ahs.ca
Network Members

Network Leadership

Membership

To see who is involved check out our core membership list
News, Updates

Appropriate Use of Antipsychotics (AUA)

Dementia Advice Bulletin

Seniors SCN Newsletters

2017

2016
Projects, Priorities

Project Summaries / Storyboards

Priorities

Appropriate Use of Antipsychotics

Strategic Direction
Related Resources

Articles & Videos
Research, Innovation

Ongoing / Current Work

Past Studies

Newly Announced Studies / Funding Opportunities