Energy Bars
Friday, May 29, 2015 8:49 AM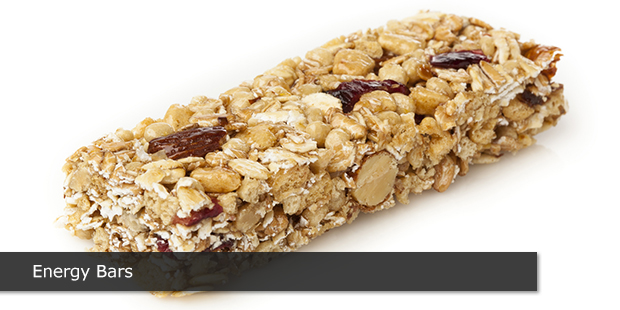 When setting goals for healthier eating, choose small changes that will work for you - like making time for breakfast. This quick, no bake recipe is easy to make ahead of time so that breakfast is always ready for you. Just add a piece of fruit and some milk, and you are ready to start your day! 
Ingredients:
½ cup Almonds 125 mL
¼ cup Sesame seeds 60 mL
¼ cup Sunflower seeds, shelled 60 mL
⅓ cup Corn syrup 75 mL
¼ cup Brown sugar 60 mL
1 cup Reduced fat peanut butter 250 mL
1 tsp Vanilla extract 5 mL
6 cups Corn flakes or any other cereal  1.5 L
1 cup Raisins or any other dried fruit  250 mL
Directions:
1. Lightly spray a 9 x 9 inch (22 x 22 cm) pan with non-stick cooking spray. Set aside.
2. In a skillet, toast almonds until slightly brown; remove from skillet.
3. Toast sunflower seeds and sesame seeds until slightly brown; remove from skillet.
4. In a small saucepan, mix syrup and brown sugar; bring to a boil then remove from heat.
5. Add peanut butter and vanilla; mix well and set aside.
6. Measure cereal into a large bowl.
7. Add raisins, almonds, sesame seeds and sunflower seeds.
8. Pour peanut butter mixture over cereal mixture.
9. Mix gently until all cereal is coated with peanut mixture; add 1 to 2 tablespoons of syrup if mixture is too dry.
10. Spread cereal mixture into a prepared pan.
11. Use foil or wax paper to cover the pan. Press with both hands until mixture is spread evenly in the pan.
12. Allow mixture to set in the fridge at least one hour.
13. Cut into 12 bars.
14. If bars are not used immediately, wrap in plastic to prevent them from drying out.           
Makes 12 servings (1 bar/ 72 g)
 
Per serving: 310 calories, 13 g fat (2 g saturated, 0 g trans) 230 mg sodium, 42 g carbohydrate, 9 g protein, 3 g fibre
 
For more recipes, see Inspiring Healthy Eating at Healthyeatingstartshere.ca