Alberta Children's Hospital Family Guide
The latest version of the family guide is now available for downloading.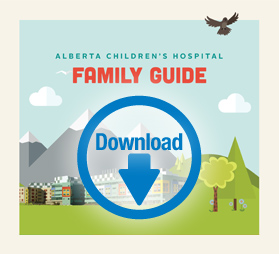 The guide is here to help you and your family access services at the Alberta Children's Hospital.
It contains information to help your find your way around the hospital, as well as tips to help your child's stay as comfortable as possible.
The book is divided into inpatient services for those staying in hospital and outpatient services for those who will be making regular appointments to the hospital during the day, but will not be staying overnight.
Maps of the facility are also contained in the guide.
If you have any questions about the Alberta Children's Hospital, please call us at 403-955-7211