Healthcare Action Plan
90-Day Report from Dr. John Cowell, Official Administrator
AHS is focused on making fast, effective improvements to our four key priority areas.
Last updated April 26, 2023
As a follow-up to the 90-day report, AHS is making measurable, meaningful progress in all four priority areas. Learn more.
---
The Government of Alberta launched the Healthcare Action Plan on Nov. 17, 2022, to ensure rapid improvements in key areas of healthcare delivery. Dr. John Cowell was appointed by the Government of Alberta as Official Administrator (OA) of Alberta Health Services (AHS) to oversee and accelerate these improvements.
AHS is aligned with the government's Healthcare Action Plan, and working to aggressively deliver on all priorities.
Working closely with AHS' valued partners, the OA has been focused on ensuring access to high-quality, safe healthcare for all Albertans in the following strategic areas:
Improving EMS Response Times
Decreasing Emergency Department Wait Times
Improving Patient Flow Throughout the Healthcare Continuum
Reducing Wait Times for Surgeries
AHS is also working diligently to attract and retain healthcare professionals, and support local decision-making and innovation through improved decision-making culture and streamlined processes.
The healthcare system is a provincial asset. It is well-resourced and requires constant attention and continual improvement to ensure it serves all Albertans.
---
Four Priorities
---
Successes to Date / Ongoing Actions
Through the focused efforts of many healthcare teams, physicians, partners and stakeholders, tangible improvements have been made to healthcare delivery over this 90-day period. This section lists each priority's successes and ongoing actions.
The healthcare system is complex. One achievement frequently impacts two or more priority areas. For instance, good patient flow through an emergency department will get ambulances back on the road sooner, and better accessibility of acute care and continuing care reduces emergency department waits.
---
EMS response times are impacted by several factors, such as volume and density of calls at any given time, as well as a community's size, population and geography. EMS aims to ensure prompt response to all calls triaged as most emergent and life-threatening. When time is of the essence from a clinical perspective, the goal is to safely arrive in as little time as possible. Minutes really matter when responding to calls seeking help for life-threatening situations. EMS operations are sophisticated and data-driven – paramedics arrive on scene and transport patients while relying on the work of emergency communications officers and dispatch, 24 hours of every day. Insights and results from several recent reports are guiding work on reforms and innovations in EMS.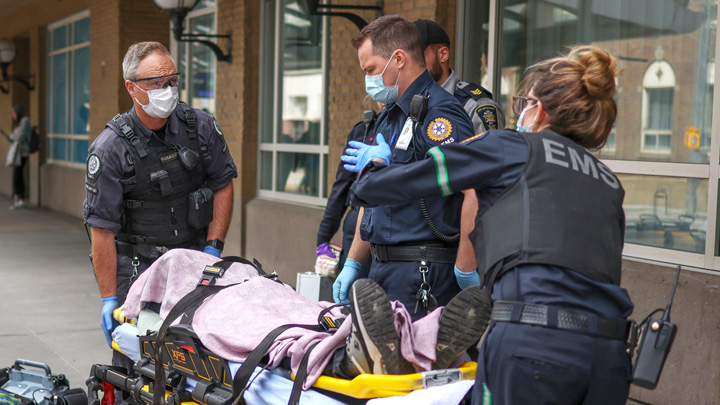 Successes
EMS response times are improving, despite a sustained 30 per cent increase in call volume across the province. Comparing November 2022 with January 2023, EMS response times for the most urgent calls are shorter:

17 minutes in metro and urban areas, down from 21.8 minutes.
19.2 minutes in communities with over 3,000 residents, down from 21.5 minutes.
34.9 minutes in rural communities with under 3,000 residents, down from 36 minutes.
57.5 minutes in remote communities, down from 63.9 minutes.
(AHS is focusing its measures on the 90th percentile, meaning these are the response times for 90 per cent of activity.)

Between November 2022 and January 2023, EMS added 39 front-line staff, including paramedics, emergency communications officers, and front-line supervisors. Overall, EMS hired 457 new staff members in 2022, including 341 paramedics.
Between November 2022 and January 2023, a new ambulance was added in Red Deer; 19 new ambulances were added earlier in 2022 provincewide.
In the coming days, AHS EMS will transition 70 current temporary full-time (TFT) positions to regular permanent full-time (RFT). AHS EMS will work with the Health Sciences Association of Alberta (HSAA) to ensure this is a swift and smooth transition, including collaborating with the union on potential processes that could expedite the connection of interested temporary and casual employees to these positions. These 70 positions will continue to be allocated to all five operating zones, with 20 positions in each metro area, and 10 positions in each of the three rural zones. EMS will also engage with the HSAA to discuss efficient mechanisms to fill 80 new RFT positions that are being added to ranks in April 2023. Work is ongoing with HSAA to explore the utilization of the Rural Capacity Investment Fund to support paramedic recruitment, relocation, and retention initiatives in rural and remote communities. International recruitment options are also being actively explored.
A red alert or Code Red is a term used to indicate that, at a certain point in time, all ambulances within a certain geographical area are busy helping patients. A red alert does not mean that patients who urgently require an ambulance are not cared for; when additional resources are required, units are repositioned from other communities, non-urgent transfers are deferred, supervisors are deployed to assist in freeing up teams from EDs, and single paramedic response units are used to provide urgent care. Red alerts are normally very short in duration and are only used in Calgary and Edmonton. In January 2022, in the Edmonton Zone, there were 1,092 red alerts for a total of 39.7 hours, compared to 81 alerts for a total of 1.8 hours in January 2023. In Calgary Zone, in January 2022, there were 328 red alerts for a total of 8.1 hours compared to 134 red alerts for a total of 3.2 hours in January 2023.
AHS launched EMS/811 Shared Response in January 2023. Low-acuity EMS callers are being transferred to Health Link 811 where registered nurses – backed up by doctors when needed – provide callers with further assessment to determine what type of care and support is needed. In the first three weeks of Shared Response, EMS assessed more than 1,600 callers as low acuity and connected them to 811. In other jurisdictions with similar processes, up to 20 per cent of EMS calls are transferred to nursing lines over time. The program will help Albertans receive the care they need, and keep ambulances and paramedics able to respond to emergency calls. To date, approximately 30 ambulances per day are being freed up for emergencies.
---
The emergency department (ED) is a busy and crucially important part of the flow of patients through the
healthcare system. Patients come to the ED when they are injured or in pain and believe they have nowhere else to go to seek medical attention. Whether a patient arrives independently at the ED or by ground or air ambulance, they are triaged in the same manner, ensuring those with the most urgent healthcare demands are prioritized. Changes being implemented will ensure more efficient patient movement through the ED with more clearly defined accountabilities at each stage of care, through increased staffing and more comprehensive services.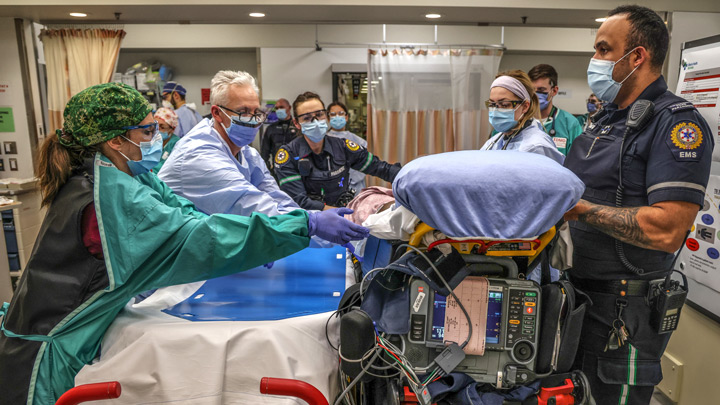 Successes
114 full-time equivalent (FTE) nursing staff are being added to emergency department teams in our 16 largest hospitals and some of our suburban hospitals to ensure the transfer of responsibility for patient care from paramedics to ED staff is fast and safe. This will support the target of reducing the time paramedics spend at the hospital to 45 minutes (from 3.2 hours in January) as recommended by the Alberta EMS Provincial Advisory Committee. These new nursing positions are being posted in February.

From November 2022 to January 2023:

Emergency department wait time to see a doctor has been reduced by10 per cent to 6.4 hours.
Total time spent in the emergency department for admitted patients has been reduced by five per cent to 40 hours.
Total time in the emergency department for discharged patients remains stable at 11.8 hours.
(AHS is focusing its measures on the 90th percentile, meaning these are the response times for 90 per cent of activity.)
Will open 36 new transition beds that will be available for people experiencing homelessness who have been discharged from Edmonton hospital emergency departments.
In January 2023, AHS expanded phone service providing mental health consultation support to partner agencies involved in mental health response, community outreach and support.
---
Improving Patient Flow Throughout the Healthcare Continuum (Read more on this priority...)
Ensuring Albertans have access to the right care in the right place at the right time is at the heart of the improvements being made to healthcare in the province. Re-establishing this balance will help ensure there is sufficient capacity for the flow of patients from the ED into acute care, and from acute care back into appropriate care in the community. Smooth patient flow sometimes requires helping patients with transportation back to their home or between healthcare facilities using non-ambulance transfers, and sometimes requires the identification of a continuing care space or additional home care supports.
The need for additional capacity at all stages of this process is also being addressed.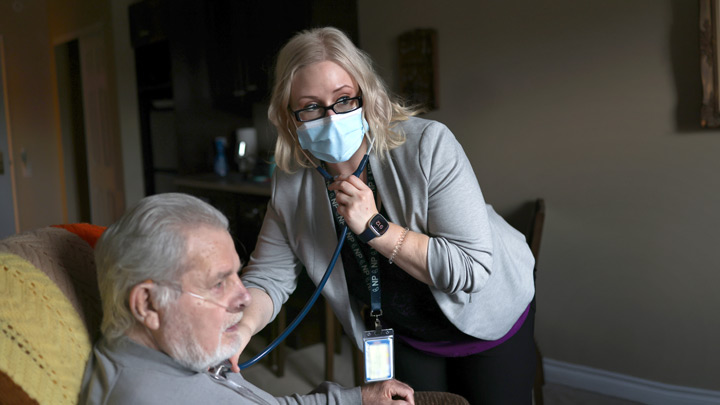 Successes
Between September 2022 and January 2023, AHS operated an average of 255 net-new, non-ICU acute care beds across the province. (Note: the number of open acute care beds changes based on availability of staffing and with fluctuations in demand.)
Between November 2022 and January 2023, AHS:

Opened 292 net-new designated supportive living beds.
Opened 55 net-new long-term care beds.
Opened 26 net-new mental health beds and 26 net new addiction beds (for a total of 52 beds).
Opened 362 net-new community spaces with wrap-around health supports.
recruited 28 physicians rural Alberta, including 12 in the North Zone, four in the South Zone, and 12 in the Central Zone.
Added 278 more registered nurses, licensed practical nurses and healthcare aides.
Added 48 more allied health professionals, including social workers, recreation therapists, occupational therapists and audiologists.

In January 2023, hemodialysis units at St. Therese-St. Paul Healthcare Centre and Northern Lights Regional Health Centre in Fort McMurray expanded their hours of operation, bringing care closer to home for six dialysis patients in each community.
Albertans in several smaller communities have increased access to services with the opening of addiction and mental health walk-in clinics. These clinics, announced in January 2023, have opened in Cold Lake, St. Paul and Bonnyville in the North Zone, and in Coronation, Vermilion, Stettler, Provost, Viking and Killam in the Central Zone.
In January 2023, the number of assessed patients waiting in the province's top 14 hospitals for a continuing care space was 179, lower than the 218 patients who were waiting at the end of the 2018/2019 fiscal year, and also lower than the 253 patients waiting in November 2022.
---
AHS has done considerable work over the past four years to introduce better management of the list of Albertans who are waiting for surgery. Adult patients who have been waiting for one day, one week, months or longer are included in this list, which changes constantly as thousands of procedures are completed every month – often on an emergency basis – and more patients are newly assessed as requiring surgery. The focus is to ensure all surgeries are completed within clinically recommended timeframes. Data is being used to analyze wait-lists of individual surgeons, as well as factors that inform the appropriate treatment of individual patients, the appropriate utilization of all available operating room capacity, and the most efficient scheduling of surgeons, anesthesiologists and nurses.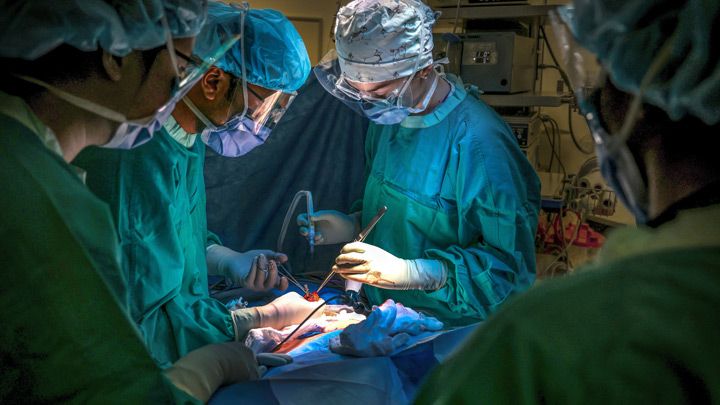 Successes
By March 31, 2023, it is anticipated that AHS and the chartered surgical facilities will have completed 290,000 surgeries which is an increase of 11,400 surgeries or 4 per cent (from 278,600) last year. On October 31, 2022 the number of patients waiting outside the clinically recommended wait time was 39,246 and that number has decreased to 35,595 as of February 20, 2023 and we expect a further decrease by March 31, 2023. The number of patients waiting the longest relative to their clinically recommended wait times will have decreased by 30 per cent between April 1, 2022 and March 31, 2023.
AHS is focused on ensuring that those patients who have waited the longest for surgery are prioritized. Between November 2022 and January 2023, the number of patients who have been waiting at least three times longer than a clinically appropriate time for surgery has been reduced by five per cent — representing about 800 fewer Albertans on the wait-list.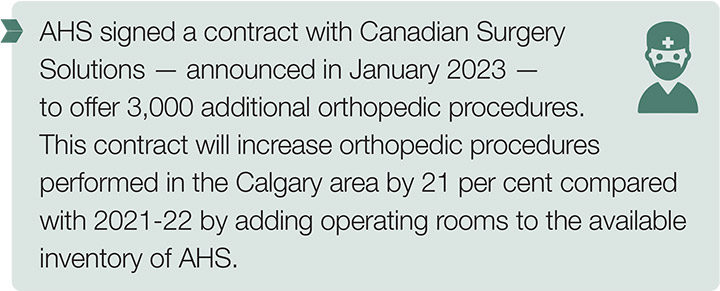 At the end of January 2023, cancer surgeries in Alberta were up 11 per cent compared to the same time frame in the pre-pandemic 2018-19 fiscal year.
Patients referred to a urologist or orthopedic surgeon are benefiting from a new program that helps their family doctor find them a specialist with the shortest wait time. The Alberta Facilitated Access to Specialized Treatment (FAST) program — launched in December – enables family doctors and other providers to send referrals to a central team, which then assigns the referral to a specialist with the shortest wait-list, or a specific surgeon if that's the patient's preference. This program will roll out to other surgery areas over the next three years.
AHS signed a contract with Canadian Surgery Solutions — announced in January 2023 — to offer 3,000 additional orthopedic procedures. This contract will increase orthopedic procedures performed in the Calgary area by 21 per cent compared with 2021-22 by adding operating rooms to the available inventory of AHS.
---
Other Actions
Building the Workforce
AHS is now developing a Health Workforce Strategy in alignment with the Alberta Health Workforce Strategy. The strategy is a focused effort to address current labour market demand in the healthcare sector and will provide a roadmap to ensure immediate needs are prioritized, the workforce continues to grow, and every effort is taken to optimize and retain skilled employees.
---
Local Decision-Making & Innovation
AHS staff and physicians have been asked for their input and feedback on what local decision-making currently looks like across the organization. Based on themes emerging from this ongoing engagement, AHS is focusing on how to simplify processes, such as hiring, budgeting and procurement practices; reducing administrative burden on our leaders and staff; and improving the culture around local decision-making.
---
Looking Forward
Healthcare is an area of continuous innovation – in equipment, research, knowledge and practice. Healthcare systems must follow suit. This is a period of rapid improvement and innovation at AHS, which is beginning to show demonstrable value for Albertans thanks to the hard work, dedication and ingenuity of AHS staff and physicians, as well as the support of many partners and stakeholders.
Relentless focus on four key priorities — areas for rapid improvement that matter most to Albertans — has resulted in significant forward momentum over the past 90 days. With disciplined focus and progression, AHS will continue to demonstrate improvement throughout all areas of accountability laying the groundwork for long-term system transformation that will enhance health outcomes and experiences for all Albertans.