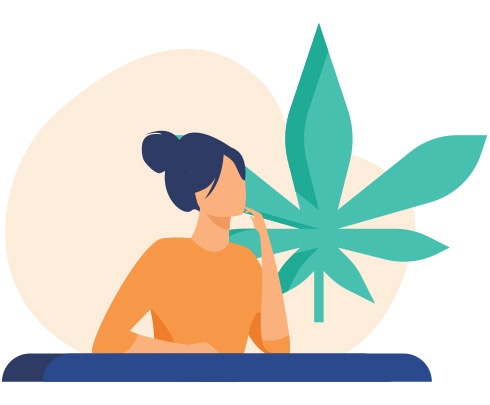 Short-Term Cannabis Use Can:
Increase your heart rate and blood pressure
Make your eyes red/bloodshot, as the blood vessels expand
Cause you to feel drowsy, slow your reaction times, and decrease your coordination
Make it harder to focus, concentrate, remember, and make decisions
Cause dizziness, headaches, and vomiting
Affect your ability to drive or operate equipment
Change your mood and judgement
Using Cannabis Often (Daily or Near-Daily) Over a Long Period of Time (Months/Years) Can:
Cause harm to your lungs if inhaled (smoking or vaping). Cannabis smoke contains many of the same toxins found in tobacco smoke
Cause chronic bronchitis, wheezing, and phlegm
Trigger severe nausea and repeated vomiting (called Cannabis Hyperemesis Syndrome or CHS)
Reduce your attention span, and ability to learn and make decisions
Cause memory loss
Lead to addiction
Increase your risk of heart attack and stroke
Increase your risk for testicular cancer, which could lead to low sperm count and infertility
Cannabis & Mental Health
Using cannabis can:
Increase your risk for mental disorders like schizophrenia, especially if you have a family history
Worsen symptoms of bipolar disorder, depression, and anxiety
Increase your risk for thoughts of suicide and suicide attempts
Learn more about the relationship between cannabis and psychosis.
All Forms of Cannabis Have Health Risks
The only way to completely avoid health risks related to cannabis is not to use it.
Cannabis & Your Medications
Cannabis can interact with other medicines you take, which could affect your health. If you choose to use cannabis for medical or non-medical purposes, talk to your health care provider.
Medications that interact with cannabis include:
ADHD medicine
Allergy medicine
Antibiotics and anti-fungal medicine
Anti-depressants/anti-anxiety medicine
Anti-seizure medicine
Blood thinners
Cold & flu medicine
Heart medicine
HIV/AIDS medicine
Pain medicine
Sleeping pills