Great People. Great Care: Shelley Mueller
Nutrition & Food Services
A day in the life of a rural facility cook
Story and photo by Sara Boehnke
The Radway Continuing Care Centre kitchen smells like home. Lunch today is pork roast, scalloped potatoes and mixed veggies.
"Cooking at a continuing care centre is different than at an acute care facility," says cook Shelley Mueller as she mixes up gravy for the pork roast. "This is the residents' home so we try to make dishes they'd have at home."
The most popular dishes? Ukrainian food, which Mueller learned how to cook while apprenticing under her former boss. Now a 15-year veteran of the Radway facility, Mueller is a perogy expert.
Today she's working her normal shift of 10:30 a.m. to 5:30 p.m., which means she'll serve lunch and supper to the almost 30 residents. Each resident has unique dietary needs—celiac, puree-only, allergies—and taste preferences.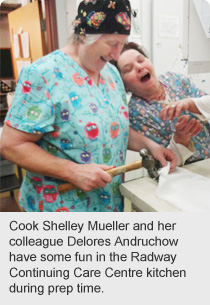 Mueller knows the names and needs of each resident. She knows where they sit in the dining room and each resident's personality and tastes. She knows that the woman sitting to the far right will only eat the soup if you give her a full bowl, not half, and that the man next to her requires a minced diet.
"It's one of the benefits of working in a smaller facility," explains Mueller. "We have a chance to spend time with the residents and get to know them."
Soup is served first and then it's time for the main meal. Mueller and her colleague keep an eye on the dining room. As each resident finishing the soup, Mueller dishes out an individual plate for her colleague to serve. No two plates are exactly alike, as each plate is made for a specific resident. And if Mueller notices that a resident isn't eating, she talks to them, finds out why and comes up with a solution.
"I really like being able to accommodate the residents," says Mueller. "It's one of the favourite parts of my job."
The menu follows a 21-day meal plan prescribed by AHS; however, Mueller is able to make certain adjustments at the local level.
"Food is a very important part of the quality of life for our residents in continuing care. Ensuring that their meals include foods that are familiar, tasty and nourishing is essential," says Jane Meredith, supervisor, Patient Food Services NE (Smoky Lake, Radway, Boyle). "We work at recognizing cultural needs and special days, as well as incorporating resident requests."
After lunch, it's time for cleanup and prep. Radway is a small facility and the kitchen staff are responsible for all food-related duties, including dishes, food service, and cooking. Normally two kitchen staff are on duty at a time and they help each other out.
"If I wasn't a cook, I don't know what I'd be," muses Mueller as she goes about her duties. "I wouldn't like working in an office. I need to move around."
Mueller has a lot of experience being on her toes. Between her and her husband, they have nine children, seven of whom were teenagers at the same time. While they're grown now, cooking for a large family was good practice.
"I'd say they ate like pigs," she laughs. "But I doubt pigs could eat that much."
Supper's served at 4:45, which means that after prep and a quick break, it's time to do it all again. Beef stew is on the menu tonight, a fitting dish for this comfortable, homelike kitchen.