Cardiac patients benefit from non-invasive technology
Story by Kerri Robins
What began as a normal spring day for Michele Roach ended with her collapse — and a huge shock for her husband Jim Kupczak, who found her unconscious and unresponsive.
The 49-year-old Edmonton woman had suffered a near-fatal pulmonary embolism — a sudden blockage of a major blood vessel in the lung, most likely caused by a blood clot.
Rushed to the Royal Alexandra Hospital last April, a catheter was inserted into Roach's neck and then guided through her heart to her lungs, to monitor her internal function, particularly that of her heart.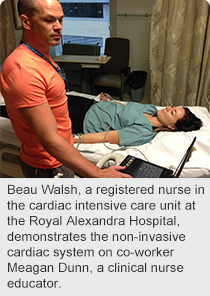 "I don't really remember much about the first six hours after I collapsed, but I do remember the catheter being inserted in my neck and it hurt," says Roach.
Now, there's a new technology that's changing that. The Non-Invasive Cardiac System (NICaS) relies on a set of electrodes attached to the patient's wrists or ankles and reads real-time data on a laptop. The NICaS offers two advantages to both patients and cardiologists – better patient comfort and comprehensive cardiac data.
Currently being used by cardiologists at the Royal Alexandra Hospital's CK Hui Heart Centre, this vital piece of equipment will be purchased this year for the hospital's intensive care unit (ICU), thanks to a $10,000 donation by Roach and Kupczak to the Royal Alexandra Hospital Foundation.
"The ICU is a busy place, but the staff always made time to keep Jim and I informed and it's clear they make the whole family the centre of attention — I can't express how grateful we are for that," says Roach. "When I heard about the NICaS, the decision was easy as to how I wanted my donation spent."
In just minutes, NICaS can give cardiologists the information they need for diagnosis, decisions on treatment, and patient progress after an interventional procedure or a new medication.
"The NICaS is a vast improvement because not only does it take less than a minute to attach the electrodes, it's a great diagnostic tool," says Beau Walsh, a registered nurse in the cardiac intensive care unit at the Royal Alexandra Hospital.
"Equally important, the system provides information on the volume of blood being pumped with each heartbeat and how well it's flowing through veins and arteries.
"It can also be used pretty much anywhere in the hospital, while the catheter procedure has to be performed in a controlled and sterile environment to minimize the risk of infection."
Andrew Otway, President and CEO of the Royal Alexandra Hospital Foundation, says he's pleased with this new technology.
"We're always looking for ways to improve patient care," says Otway. "Keeping up with technology is critical in helping our hospital staff deliver the top-notch care they are known for.
"We're thrilled Michele pulled through and is doing well now, and her experience in the hospital is testament to hospital staff and how they continually fulfil our vision of improving health in our community everyday through passionate care and kindness."
For more information, please visit: www.royalalex.org