Alberta Hospital Edmonton group creates acts of kindness
Story and photo by Shelly Willsey
They say that giving is its own reward. And the Giving Back Group at Alberta Hospital Edmonton (AHE) must have felt a weighty reward when they collected and donated 105 kg of groceries to Edmonton's Food Bank.
Initially formed in February, the Giving Back Group at the Alberta Health Services facility gives patients the opportunity to do random acts of kindness, and to show compassion and charity. Participants brainstorm and determine ways to recognize, support and encourage individuals, communities or environmental causes.
AHS staff provides participants with opportunities to assume a caring role that allows them to contribute to their community. This approach helps participants develop a greater sense of self worth and belonging by engaging them in meaningful ways.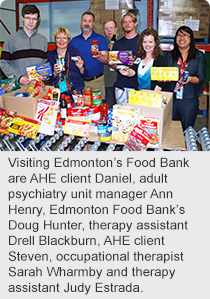 "It was awesome to drop off the food we collected at the food bank," says Steven, a member of the Giving Back group. "It showed we were thanking others and doing something good for those in need."
The group's June food drive was inspired by guest speaker Dan Johnstone — a.k.a. 'Can Man Dan' — an anti-poverty activist and philanthropist who shared his own experiences of growing up in poverty.
"Everything we do is client-driven," says Sarah Wharmby. "All of the ideas come from the group members, and they determine how to implement these acts of gratitude or compassion. They use a team approach, and every member of the group takes pride in participating."
The group includes 15-17 participants who meet weekly to complete activity-based projects of charity and gratitude. All members share their strengths in the group and are provided opportunities to nurture development of their skill.
Participants have completed various projects around AHE, including crafting handmade thank you cards to members of staff, cleaning up grounds, initiating a clothing drive to assist other clients, and re-painting footprints on the walking trails.
The group also delivered a homemade toolbox, filled with treats and words of thanks, to the 30-plus members of AHE's Facilities, Maintenance and Engineering team. The Facilities staff were greatly touched by this gesture and continue to talk about how it helped them feel validated and appreciated for the work that they do behind the scenes.
"When Facilities and Maintenance received our unique toolbox gift they were totally not expecting it," says Daniel, a member of the Giving Back group. "Overall, it feels good to return the favour of giving back to others because I have many people caring for me here. This group allows me to feel like I can still do something for others."
The group is dreaming up more ideas on how to give back. Plans are already underway to recognize the site's Bee-Clean staff with handmade bee magnets, and the group is brainstorming ways to support off-site communities and charities. Each project is directed by the clients, developing their sense of meaning and purpose on site at AHE and in the larger community.
Facilitating the group with therapy assistants Judy Estrada and Drell Blackburn, Wharmby and Bryan Fleet see group members' strengths emerging. In line with overarching recovery care principles, clients achieve their goals in ways that are meaningful to them. Clients are welcomed into the group to participate at each of their functional levels, and activities support participation from all group members.
"All the members of the group help one another. There's no one leader — they're a team," says Wharmby. "They're improving their social skills, confidence, and creativity, and finding ways to include each other."
Fleet agrees. "We've seen the positive outcomes in our clients, and the impact they're having on the whole site," says Fleet. "They're building connections with people. Simple acts of thanking a cleaning staff, or decorating the site's walking paths, helps build a bond and makes everyone feel appreciated."
The Giving Back group operates with a recovery-focused approach, pursuing causes and activities that are purposeful for the clients. The clients decide which projects they feel will contribute positively to their communities.
The Giving Back group is continuing to develop and evolve over time, and it is clear that the positive outcomes of the group have already been felt at AHE and in the greater community. The Giving Back group is a true example of how purposeful, client-driven activities can help foster a positive sense of belonging and community.