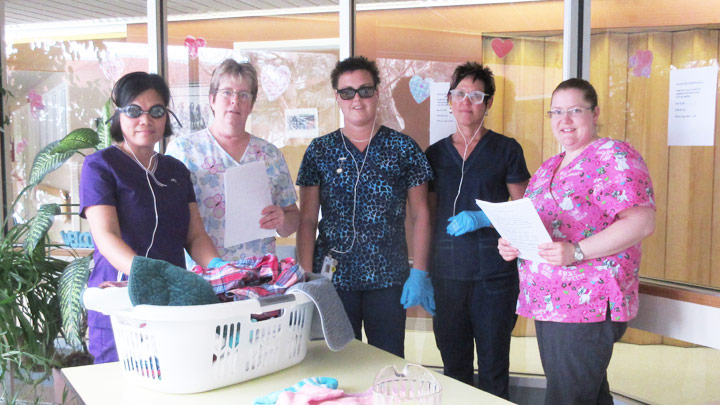 A virtual dementia tour gave staff at the Barrhead Continuing Care Centre new insights into the challenges facing many residents
Story by Sara Warr
Alberta Health Services (AHS) staff at the Barrhead Continuing Care Centre have a newfound appreciation for some of the challenges facing some of the residents they care for after taking part in a virtual dementia tour.
"I think it really got everyone thinking: 'Does this person with dementia truly have the ability to understand what I'm asking of them?' " says Jenny Nanninga, care manager for the dementia unit in Barrhead.
Nanninga had taken part in similar training and wanted to share the experience with other continuing care staff. With help from the clinical nurse educator and the other managers on site, a virtual dementia tour was provided during annual education.
As part of the exercise, staff wore gloves that were too big and placed popcorn kernels in their shoes, mimicking disturbances to their sense of touch and giving a sense of chronic discomfort. Staff also wore eyewear that made everything look blurry and used earphones with recorded background noise.
"Then we confused the written instructions with incorrect spelling and punctuation," Nanninga says.
"It really heightened everyone's awareness that there may be reasons behind certain behaviours that we might not necessarily see, and that maybe we can investigate those further and work toward a better quality of life for the people we care for."
Dementia training included completing a list of simple tasks: writing a letter, setting the table, or folding clothes while faced with obstacles similar to what continuing care residents might deal with.
Participants filled out questionnaires before and after the session detailing how the various discomforts affected them and how what they learned may impact the way they deal with continuing care residents.
"We also talked a lot about the importance of using simple instructions," Nanninga adds. "Five words or less to make sure we're not overburdening people with information."
Nearly 100 registered nurses, licensed practical nurses, health care aides, rehabilitation and recreation therapy staff took part in the training.
Dementia is expected to more than double in Alberta as the baby boom generation ages. By 2038, it is estimated that about one in 10 Albertans over the age of 65, and nearly half of those over age 90, will be living with dementia.