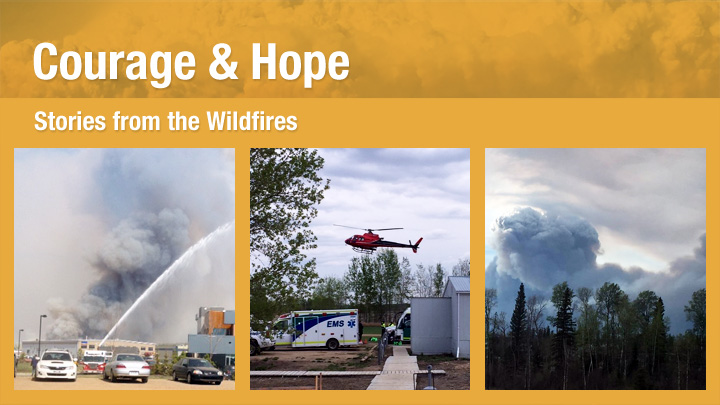 For non-emergency health advice, including information on your health care options, call Health Link at 811.
Latest Updates
Several months have passed since the Fort McMurray wildfire tore through the area. While the city and its surrounding communities look to rebuild and return to a sense of normalcy, Alberta Health Services' employees are back at work, supporting their fellow residents. But we know that the loss and effect of this event is far from over.
Our thoughts remain with everyone who suffered loss of property, including many of our staff. You won't be alone in this. We are proud to stand with you all as we look towards the future and rebuilding of Fort McMurray. One thing remains clear, Fort McMurray is strong and united and together we will carry on.
FOR IMMEDIATE ATTENTION: Updates to Your Local IT Service Desk for Fort McMurray Customers
Information Technology (IT) has revised Service Desk procedures to better support those with IT questions or issues, particularly for Fort McMurray staff as they resume operations.
If IT support is needed, the IT Service Desk can be reached at 1-866-967-5068 or locally at 780-791-6140.
Changes to Procedures:
Hours of Operation: 24/7 support
Core business hours
7 a.m. to 5 p.m., Monday to Friday excluding holidays
60-90 seconds is the average time to wait to speak to an analyst.
On-Call support is available outside of core business hours
Call the IT Service Desk number 1-866-967-5068 (local number is 780-791-6140) and select option 1 to speak to an IT analyst who will be available to respond.
If prompted to leave a voicemail message, it means the IT analyst on-call is responding to another call. Please leave a message and an analyst will respond within 15 minutes or less.
Modified Phone Menu:
When you call the IT Service Desk a new prompt is heard prior to being directed to the main menu, which instructs Fort McMurray customers to press option 1.
This option will be answered with a higher priority.
Service Desk Email:
Requests submitted by email will be actioned in the order they are received, and may take up to five business days.
If you want to report something that is not working (i.e., password, computer, application) or your request is urgent, please call the Service Desk rather than email.
Donate via Payroll Deduction
Thank you! AHS staff donated to the Canadian Red Cross using payroll deductions to help those affected by the northern Alberta wildfires.
Total Raised as of August 31, 2016: $144,239.02
News Releases & Health Advisories
News releases and health advisories are posted on the main external Wildfire page under the "Latest Updates" heading.