Daughter skill with CPR saves father life after heart stops
Daughter's skill with CPR saves father's life after heart stops
February 13, 2017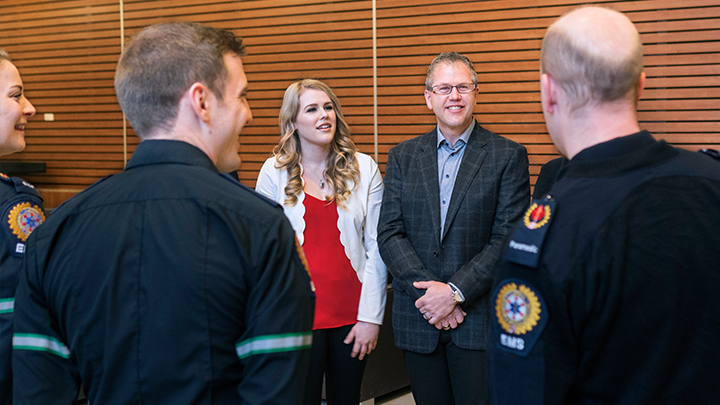 EMS hails Maslyn Dansereau as hero, presents Citizen Lifesaving Award
Story by: Shelly Willsey
When Maslyn Dansereau elected to spend a quiet Friday night at home, she got way more than she bargained for.
The 20-year-old was deep in her studies when she heard a "thunk" from where her father, Martin, was exercising.
"I knew in my head it was way too loud for something to have been dropped — and my heart just sank," says the Leduc County woman.
She raced to their basement where she found Martin, 51, face down on the floor. She turned him over to check for a pulse, but found none.
"I kicked into overdrive and thought, 'I need to do CPR now.' I did it until an ambulance came and they took over," says Maslyn.
When EMS arrived, paramedics used an automated external defibrillator (AED) to restart Martin's heart. Once they had a heartbeat, they continued care en route to the University of Alberta Hospital and the Mazankowski Alberta Heart Institute.
At the Maz, staff and physicians threaded two stents into Martin's heart arteries to keep them open, to improve blood flow. After a short stay in the Critical Care Unit, he went home. Since then, Martin has completed his rehabilitation program and shows no ill effects from his cardiac arrest.
On Feb. 6, 2017, Health Minister Sarah Hoffman and AHS EMS presented Maslyn with a Citizen Lifesaving Award.
"Maslyn did everything right," says EMS Public Education Officer Alex Campbell. "She started CPR right away, had her mom call 911 and unlock their doors to allow paramedics in, and continued CPR properly until help arrived. She saved her dad's life."
Maslyn took CPR courses as part of her psychiatric nursing schooling at MacEwan University, but had never before used it on a person.
"Early bystander CPR is the critical link in the chain of survival because the chance of surviving a cardiac arrest drops drastically for every minute that passes with no (heart) activity," says Campbell. "No part of the chain of survival can have weak links for a positive patient outcome. From Maslyn to the EMS paramedics to the care at the Mazankowski, everything worked."
The Heart and Stroke Foundation estimates only seven to 10 per cent of Canadians survive a cardiac arrest outside of a hospital setting.
"It happened to me; it could happen to anybody," says Martin. "I was healthy, I didn't have a history."
"It's so important that you learn how to do CPR. Know where an AED is and know how to use it. It could be your life."