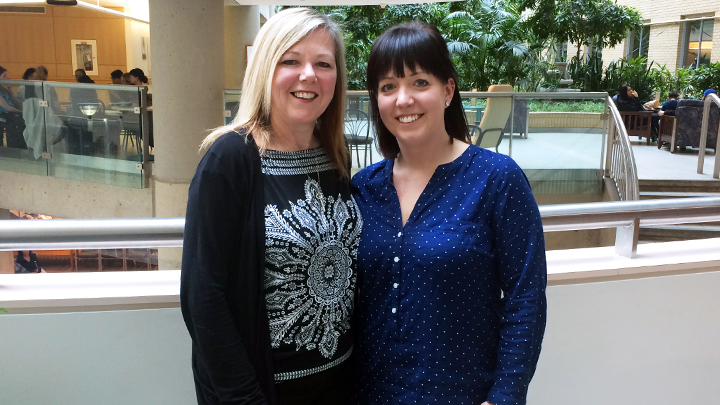 Daughter follows in mom's nursing footsteps
Story and photo by Shelly Willsey
Sarah Savard followed her mom to work in Grade 9 — and never left — ultimately going on to join her in the nursing profession.
At the time of her teenage visit during the annual Take Your Kids to Work day, her mother Sylvia Treloar worked on an orthopedic surgery unit at Edmonton's Royal Alexandra Hospital (RAH)— the same unit where Sarah has since become the unit manager.
"When I became unit manager and moved into my office, I found pictures of me as a toddler among all the staff photos on the wall," says Sarah. "Some of the staff had worked with Mom too, and I was known as 'Sylvia's daughter.' It made for some amazing conversations and many discussions about 'the good old days'."
Sylvia did her initial nursing training in the UK, and challenged the LPN exam when she moved to Canada. She later gained her diploma in nursing, and then completed her degree in 2006, going to university the same time as Sarah.
"We registered for a few of the same classes. We helped each other with homework, and studied together," says Sarah. "When I first started nursing, I'd sit at the kitchen table, talk about what I was doing, and get Mom's perspective. I wasn't embarrassed to ask her anything, and she shared her experiences and gave me an unbiased opinion."
Sylvia continues to specialize in orthopedic care. In 2001, she moved from RAH to Covenant Health's Misericordia Hospital as a Clinical Nurse Educator. Mother and daughter now sit alongside each other on orthopedic steering committees.
Sylvia recognizes and appreciates the unique situation they are both in. "I am very fortunate to have Sarah just a phone call away; we often discuss problems and ideas back and forth, and embrace the generational views."
"Nurses are in an emotionally challenging role, so once we're home, we debrief and then turn that part of ourselves off," adds Sarah, reflecting on how they maintain a positive work-life balance. "We are with patients when they're at their most vulnerable, so without the support of family and co-workers who understand how we feel, it would be much more difficult."
Sylvia is pleased that her daughter Sarah chose to shadow her that fateful day back in 1999 — and that it opened her eyes to the potential of a career in nursing.
"I love that Sarah is so passionate about nursing and working in orthopedics," says Sylvia. "I'm very proud of her skills, her professionalism, and that she is always smiling. She has a gift, and her patients are very lucky to have her."
AHS is celebrating National Nursing Week from May 8-14. Share what nursing looks like for you on social media using #YESThisIsNursing.