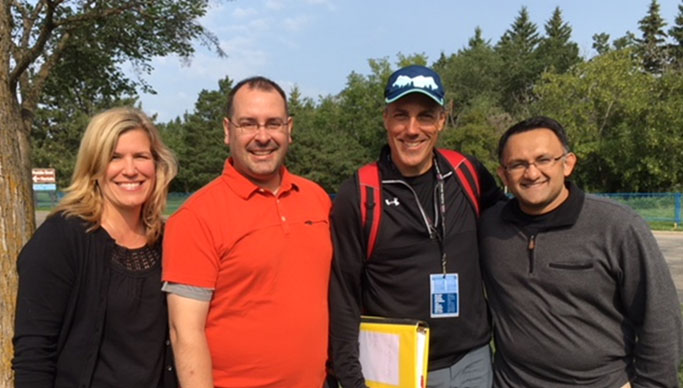 AHS Environmental Public Health pilots faster method to ensure safety
Story by Kirsten Goruk
It's an event that shines the international spotlight on Edmonton, and each year Alberta Health Services (AHS) employees work behind the scenes to make the ITU World Triathlon Edmonton a safe and healthy success.
The triathlon uses Hawrelak Park Lake, a small body of water that's not included in the AHS seasonal water testing program. However, AHS Environmental Public Health (EPH) staff work closely with organizers each year to make sure the water is chlorinated and tested prior to the event.
This year, EPH piloted a new testing program that used an Enterococcus qPCR method rather than the standard fecal bacteria method. As Cheryl Galbraith, a coordinator with rural environments in EPH Edmonton Zone explains, there are a few advantages.
"You can get results within four to five hours, whereas our past method takes between 24-48 hours. It's a huge difference in turnaround time and it's actually more accurate for health risks," says Galbraith.
Using this method means there's much less stress and worry about waiting for results in the days and hours leading up to the triathlon.
"AHS worked hand-in-hand with us and the staff are wonderful. Everyone just wants to make sure that the quality is where it should be," says Dr. Patrick Fredette, ITU Medical Delegate.
"The quality of the testing and the involvement of health officials in Alberta when it comes to water quality is exceptional. What Alberta does to ensure good water quality on a world standard, it's excellent."
Dr. Fredette spoke with some athletes following this year's July event and they shared positive feedback about the water quality. The ITU is also planning a more extensive review of the method based on a formal questionnaire shared among some participants.
And according to Dr. Chris Sikora, Medical Officer of Health for the Edmonton Zone, there's already talk of using the same approach next year.
"Supporting this event is a team effort, bringing together EPH staff, our public health residents and Dr. Graham Tipples and his team at Provincial Lab for Public Health to work with the ITU," he says.
"We look forward to seeing how we can use this method again next year and exploring other opportunities as well."