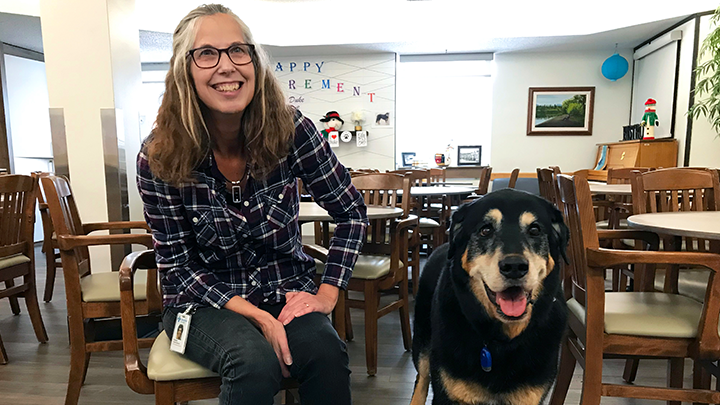 Sharlene Baergen-Fladager and her loyal pal, Duke, are ready for retirement after eight years of pet therapy service to Alberta Hospital Edmonton. Staff and patients at AHE threw a surprise party for the duo, complete with cake, canine treats and reminiscing on sweet memories. Pet therapy has been an integral service to patient care for over 20 years at AHE.
Pet therapy duo, Sharlene and her pal Duke are ready for a relaxing retirement
Story and photo by Vanessa Gomez
It was a retirement celebration to remember for pet therapy dog Duke and his owner, Sharlene Baergen-Fladager.
After more than eight years of service to Alberta Hospital Edmonton, the Rottweiler-husky mix is ready for a quiet life.
Their journey began when Baergen-Fladager was looking for activities to keep the rambunctious pooch busy.
"He was such a high-energy dog and he needed a job," she says. "I went in to Alberta Hospital Edmonton thinking, 'I'll see how this goes,' but once we were there, we were committed."
Staff at Alberta Hospital Edmonton were more than happy to have Duke's support in helping patients at the facility, which offers mental health services for adults.
Pet therapy has been an essential component of patients' healthcare journeys for more than 20 years at Alberta Hospital Edmonton.
"Pet therapy is helpful for clients in decreasing loneliness, helping with socialization and opening up the gateway for patients to interact with others," says recovery support worker Jonathan Crumback. "I've been working with Duke for about five years now. He is so sweet and his interactions have led to amazing experiences."
Patients had the opportunity to engage in active visits with Duke, including playing fetch and taking the dog for a walk along the hospital's Friendship Trail.
"I can see how much of a difference he makes for staff and patients," says Baergen-Fladager.
"Sometimes, I would hear about someone not having the greatest day but, when Duke walks in, their attitude just changes. I felt happy seeing the smiles on everyone's faces."
Duke's lovable and sweet temperament even helped a staff member overcome a fear of dogs.
Staff at AHE went above and beyond to send Duke and Baergen-Fladager off with a celebration to remember—complete with cake, coffee and plenty of treats.
They were awarded a plaque to commemorate their time at the hospital and patients and staff got to spend some one-on-one time with the duo.
"Volunteers pick the place and we were lucky Sharlene and Duke chose to spend their time with us," says Crumback. "I'm so grateful for the care and dedication Sharlene and Duke have shown."