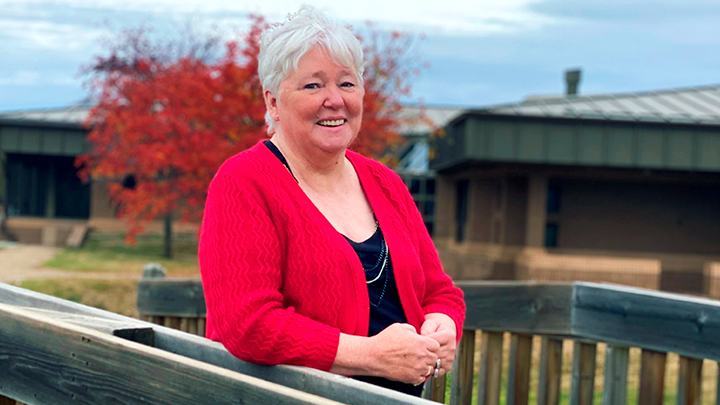 Joan Tiedemann credits her work as a longtime volunteer at Tofield's mobile mammography clinic with detecting her breast cancer early and saving her life.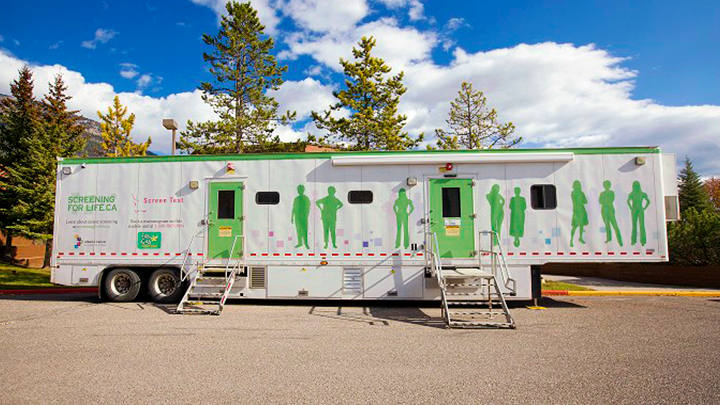 Alberta Health Services' Screen Test program brings its mobile mammography trailer to 120 smaller communities every year to safeguard the health of women in rural areas. Photo supplied.
Mobile mammography service detects early-stage breast cancer
Story by Yolanda Genu | Photo by Nicole Kulba
Joan Tiedemann knows the importance of early detection of breast cancer, because she's alive to tell her story.
"Getting the news was unexpected. My legs were knocked right out from under me," says the 73-year-old, who learned about her breast cancer diagnosis in 2018.
Ironically, Tiedemann is very familiar with the world of mammograms (breast X-rays) and breast cancer — she's been a volunteer at Tofield Health Centre's mobile mammography clinic for three years.
Despite regularly offering comforting words to nervous clients and helping them fill out questionnaires, Tiedemann had no inkling that breast cancer could happen to her.
"I didn't expect the news because no one in my family has a history of breast cancer," she adds.
Eighty per cent of women who develop breast cancer have no family history of breast cancer, says Joan Hauber, manager of Alberta Health Services' Screen Test program.
Moreover, the risk of developing breast cancer increases with age. Women aged 50 to 74 are encouraged to get regular mammograms. For most, this is usually every two years. Hauber advises women who notice any changes in their breasts to see their healthcare provider as early as possible.
Although mammograms are performed at specific radiology clinics and some hospitals across Alberta, for women like Tiedemann who live in rural areas, the mammography trailer visits 120 communities every year to bring this necessary service to them.
Fortunately, Tiedemann was volunteering in the right place at the right time: A technologist checked the date of Tiedemann's last mammogram — and found it was six years overdue. After two mammograms, two ultrasounds and a biopsy, Tiedemann was given the news.
"They caught the cancer early," she says. "After surgery I went to the Cross Cancer in Edmonton for radiation, where I had 16 treatments."
Tiedemann stayed at the Sorrentino's Compassion House, which supports women from northern Alberta while they receive treatment. She adds she was thankful to be closer to her treatment centre, and to know that she wasn't alone.
She admits she found her radiation treatments scary. "It's kind of intimidating, but all the health professionals were empathetic, and gave me time to get comfortable."
The independent-minded senior says she's also grateful for her son and daughter-in law, a Licensed Practical Nurse, for providing follow-up support.
Her journey has also included getting a prosthetic, which is inserted into a lined pocket of her bra.
"I went to a boutique, and they helped me pick out bras because I couldn't wear one like I did before. This gave me my confidence back.
"I'm healed and feel great with the prosthetic. The clothes look so much better, and it makes me feel better."
Statistics from the Screen Test program indicate one in eight women will be diagnosed with breast cancer in their lifetime. Screening through mammograms is the best way to detect breast cancer early, when treatment has the best chance of working.
"Go get your breasts checked because you have no way of knowing until you get checked. I couldn't feel my lump because it was still very small," says Tiedemann. "If the technologist didn't say 'get in there and get the mammogram,' I would not have gotten checked."
She emphasizes women should book their mammogram without delay. "Every year I'll have a mammogram. I had my six-month checkup in January."
For more information about the Screen Test Mobile Mammography Service, go to screeningforlife.ca or call toll-free 1-800-667-0604 to book an appointment.