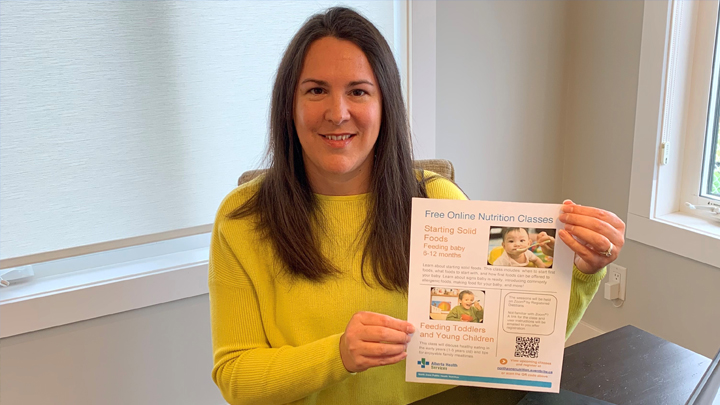 Jillyan Jay, a Registered Dietitian with North Zone Nutrition Services, holds a poster on two nutrition classes: Starting Solid Foods – Feeding your Baby (6-12 months) and Feeding Toddlers and Young Children – Tips for enjoyable mealtimes. The classes are held monthly for clients across the North Zone. Photo supplied.
Online nutrition classes offered to North Zone residents
Story by Logan Clow
Parents and guardians hungry for more information about feeding their infants or young children will find the answers they crave in online nutrition classes now being offered to North Zone families by Alberta Health Services (AHS).
Since February 2021, two nutrition classes have been offered monthly to parents and guardians: Starting Solid Foods – Feeding your Baby (6-12 months) and Feeding Toddlers and Young Children – Tips for enjoyable mealtimes. Classes are facilitated by Registered Dietitians with AHS North Zone Nutrition Services.
"These online classes are an alternative for our clients to meet virtually with an AHS dietitian, as our in-person nutrition programming has been paused due to the COVID-19 pandemic," says Jillyan Jay, Registered Dietitian, AHS North Zone Nutrition Services.
"These classes provide an array of health and nutritional information related to feeding infants and young children. Our facilitators answer participant questions, encourage participants to speak with and hear from other North Zone parents and caregivers who share similar experiences, and provide referrals to other nutrition programs and services as appropriate."
AHS Nutrition Services offers a variety of virtual nutrition workshops and classes across all zones.
Both North Zone nutrition classes are an hour-and-a-half and are held virtually on Zoom, a free online video-conferencing app. Jay says the classes cover the most common nutrition topics and questions their North Zone clients usually have.
"These topics are quite beneficial for parents and caregivers of an infant or young child, as a child's early years are a time of rapid growth and development," she adds. "Eating food gives children the energy and nutrition needed to grow, learn and play. How and what we feed our children in the early years can form a pattern that lasts a lifetime."
Starting Solid Foods – Feeding Your Baby (6-12 months) provides more information about how to safely transition from feeding babies breast milk or formula to solid foods.
"Parents will learn some feeding basics, such as when to start first foods, what foods to start with, and how first foods can be offered to a baby. We also cover common questions such as texture progression, introducing commonly allergenic foods, and making baby food," says Jay.
Feeding Toddlers and Young Children – Tips for enjoyable mealtimes provides participants with more information about strategies to help make family mealtimes enjoyable for everyone, managing common eating habits in young children, and introducing and exploring new foods.
"We know that children in the early years may start to express their independence while learning and exploring new foods. This class covers healthy eating for children up to the age of five. As parents, we can help our children form healthy eating habits by ensuring we are not just focused on 'what' they eat, but also 'how' food is offered and their mealtime experiences."
The classes are interactive and informative, with a goal to ensure participants leave with the information they need.

"Parents and caregivers have reported feeling more confident in feeding their little ones after attending the class," says Jay.
At the end of each class, facilitators encourage participants to provide feedback, anonymously.
"As a Nana, this was a great class for me as things have changed in how to encourage healthy eating without begging or bribing," wrote one participant.
Another participant wrote: "It would be nice to know when this is offered again to refer to friends who are currently expecting, and will be needing this information in six months' time."
Registration is quick and easy. To see more information on all AHS nutrition workshops, visit ahs.ca/nutritionworkshops or ahs.ca/nutrition.