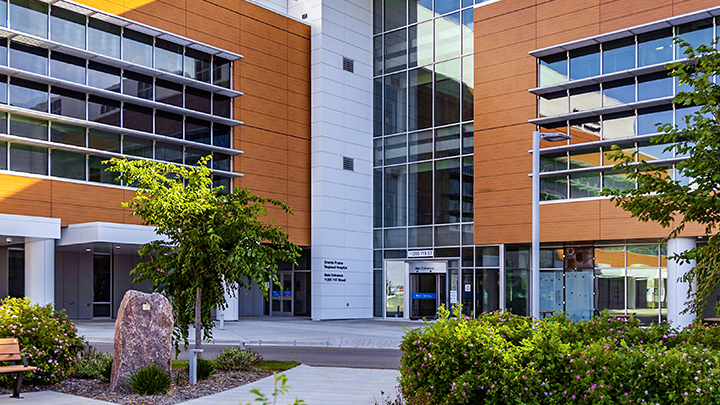 The new Grande Prairie Regional Hospital will open on Dec. 4. Photo by Matt Dettling.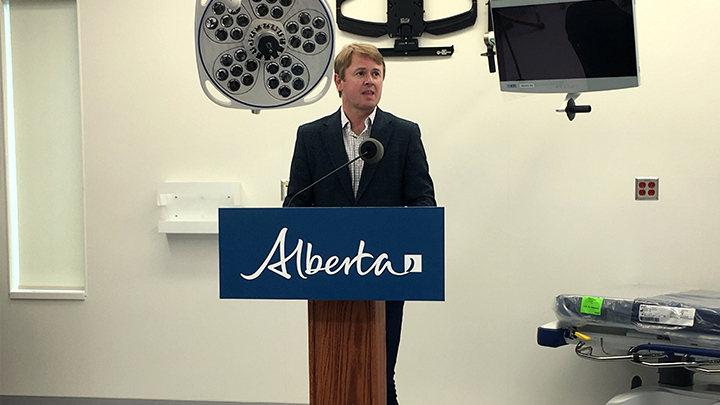 Health Minister Tyler Shandro is shown announcing two new operating rooms for the new Grande Prairie Regional Hospital, supported by the Alberta Surgical Initiative Photo by Sara Blake.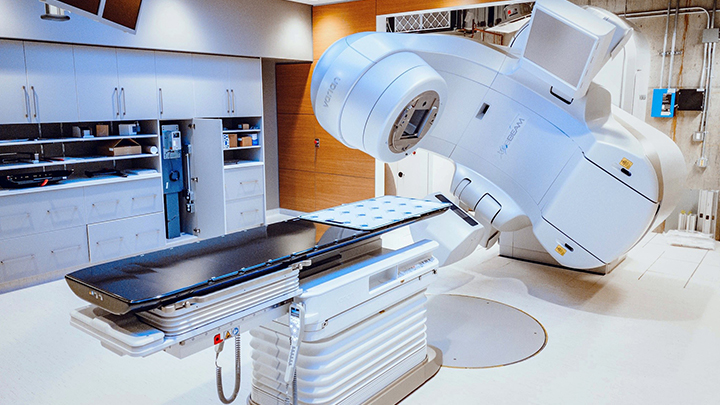 Operational planning and commissioning work now underway includes the installation of furniture and equipment, as well as thorough testing and cleaning of the entire building and operational systems to ensure they're safe and ready for patients. Photo by Matt Dettling.
Grande Prairie Regional Hospital will welcome first patients on Dec. 4
Story by Sara Blake | Photos by Sara Blake & Matt Dettling
The long-awaited Grande Prairie Regional Hospital (GPRH) now has an opening date in sight. The state-of-the-art facility will accept its first patients on Dec. 4.
All acute clinical programing in Grande Prairie will be located at the new 243-bed site, including obstetrics, intensive care, surgery and more.
Alberta Health Services (AHS) has been busy with operational planning and commissioning work since taking possession of the new hospital in the summer of 2020.
"Our teams have been working hard — ordering and installing equipment and furniture, testing and training staff on the new building and medical systems — and completing a detailed cleaning of the whole building," says Stacy Greening, AHS senior operating officer for Grande Prairie.
"This stage of the project is crucial as it ensures everything is safe and working properly before being used to provide patient care."
AHS continues to work with Alberta Infrastructure on construction of a 28-bed mental health unit and an additional 32-bed medicine unit. Work on these areas should be done by summer's end, with operational planning and commissioning to follow, as with the initial phase of construction.
Phase 2 of construction also included the addition of two additional operating rooms (ORs), supported by the Alberta Surgical Initiative. These new suites bring the total number of ORs at the facility to 11, including a dedicated obstetrics OR in the maternity unit. The two new ORs will focus on surgeries with the longest wait times, including hip and knee replacements.
"This project is part of our commitment to ensure all Albertans — including those in northern and more remote parts of the province — have their surgeries within wait times recommended by medical experts," says Health Minister Tyler Shandro.
Bariatric surgeries and breast-reconstruction surgeries will also be performed at the new hospital — new procedures for the region. GPRH will also feature several other services not offered in the region until now.
"There are two radiation vaults in the cancer centre, making Grande Prairie the first city in the North Zone to offer radiation therapy," says Candice Edey, AHS operational lead for the GPRH project.
"The commissioning process will also include implementation of Connect Care, the new provincial health information network, bringing each patient's health record just a click away. And we have single inpatient rooms throughout the facility — no more sharing a room!"
The existing Queen Elizabeth II (QEII) Hospital will continue to provide healthcare services once the new hospital opens, although the exact scope of those services has yet to be fully decided. There will be one emergency department in Grande Prairie, to be located at the new hospital.
There will be ample parking onsite. The GPRH parkade offers 1,100 parking stalls for staff and public, with another 250 surface stalls available.
The new hospital also features an education facility, in partnership with Grande Prairie Regional College, to train nurses and other healthcare professionals. New positions for the hospital will be posted at www.ahs.ca/careers. Recruitment and training is ongoing throughout the commissioning process.
"GPRH will be much more than a new space with new equipment," adds Greening. "It will be about providing care that's meaningful and important to people. We want to make sure everyone feels safe, welcome, included and respected at the hospital, regardless of their reasons for being there."
Opening ceremony plans are in the works, with more details to be shared with the community closer to the opening date.