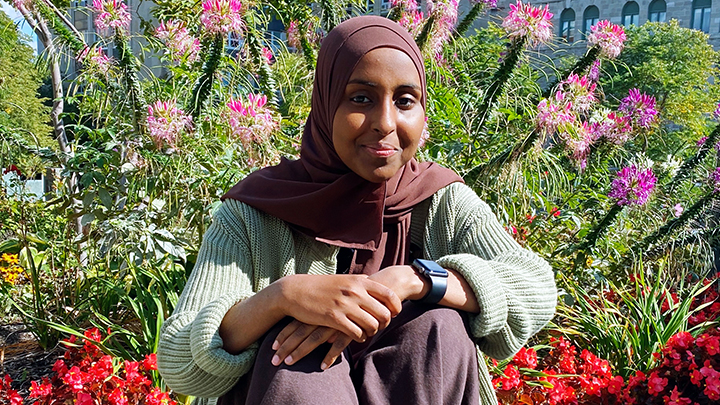 Along with neuroscience, Sumaya Soufi is interested in visual arts and Somali ancestral arts methods. A resident of Edmonton, she sees the fusion of her passions as a way help youth in the Somali Edmonton community who feel torn between their Canadian and Somali identities. This past summer she participated in the ELITE Program for Black Youth which aims to create opportunities in science, technology, engineering and mathematics as well as entrepreneurial fields. Photo supplied.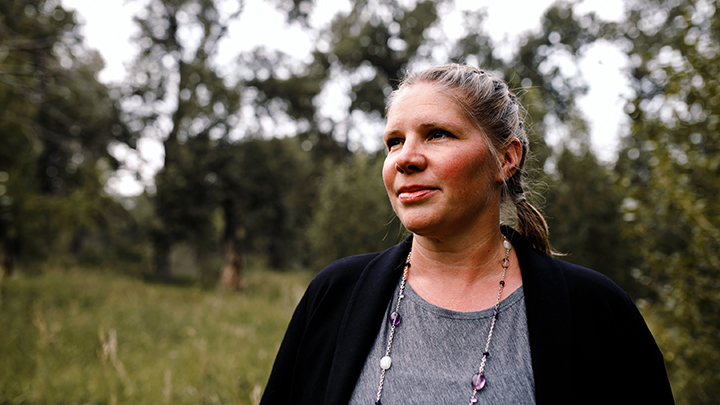 Dr. Katherine Rittenbach sponsored two interns from the ELITE Program for Black Youth over the summer. She hopes AHS can bring on more interns from the program next summer. Photo supplied.
ELITE Program lays professional groundwork for successful careers
Story by Cassie Ford
Two students gained invaluable experience with Alberta Health Services (AHS) over the summer and got a leg up on their future careers as part of a new Alberta-based internship program.
The Experiential Learning in Innovation, Technology and Entrepreneurship (ELITE) Program for Black Youth aims to create opportunities for Black youth in science, technology, engineering and mathematics as well as entrepreneurial fields.
Dr. Katherine Rittenbach, assistant scientific director for the Provincial Addiction and Mental Health Portfolio, hosted the interns. She heard about the ELITE program through a colleague and thought it would benefit her group's youth-focused project.
"They did an awesome job integrating with the academic side of the project," says Rittenbach. "They've since gone back to school but have stayed in touch and both want to participate in the work."
Sumaya Soufi, a second-year neuroscience student at McGill University, and Efrem Omorotionmwan, a fourth-year neuroscience major at the University of Alberta, spent their summer working on a research project aimed at determining how outcomes can be improved for an online platform that supports youth mental health.
The students' mainly focused on work involving qualitative analysis. They transcribed recordings of focus groups, learned qualitative software and coded data to identify major themes. They also attended meetings with the research and implementation teams and with youth leads who bridge the gap between the research and the communities.
"One thing I really liked about the Strategic Clinical Network model was the importance of connecting research and implementation science in order to learn how we can actually benefit people," says Soufi. "This project actually inspired me to consider a future career in research."
Beyond the technical skills gained from the internship, the interns also made connections and collaborated with industry professionals at all levels of the organization.
"I was surprised by how often I could reach out to my superiors and to other people in AHS," says Omorotionmwan. "I felt like I had people to discuss things with and go to for help."
Both Omorotionmwan and Soufi recommend the ELITE program for their peers.
"I feel so fortunate to be not only part of the program but also AHS," says Soufi. "Kay gave me advice and mentoring, but she also advocated for me and put me in touch with others in the field of medicine."
Animwaa Obeng-Akrofi, a senior advisor in Diversity and Inclusive Hiring with AHS' Talent Acquisition team, worked behind the scenes to get the ball rolling.
"When I started with AHS, I felt we needed a program to support Black youth," adds Obeng-Akrofi. "We host events for youth and students, but not a lot of Black youth attend."
When she heard about the ELITE program, she jumped at the opportunity to make it happen. Obeng-Akrofi says she hopes other AHS managers across will take advantage of the opportunity to sponsor ELITE interns.
"Katherine has been a great ally. She was able to share her power and privilege to help these students, and I hope others will follow suit," says Obeng-Akrofi. "I want to see visible minorities have these opportunities."