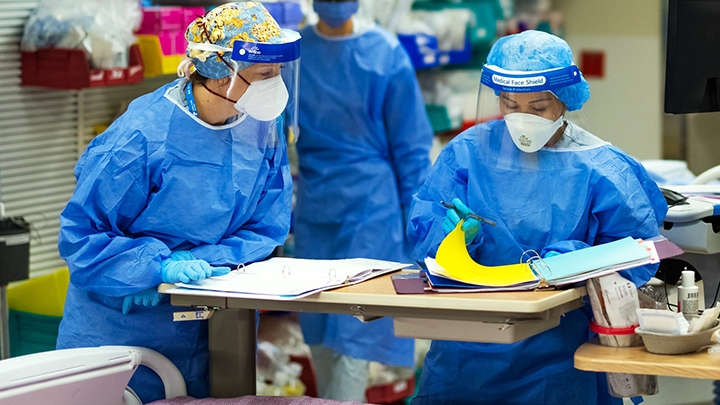 Jennifer Richard, left, a Registered Nurse from Newfoundland and Labrador, works alongside Camille Torres in the Northern Lights Regional Health Centre in Fort McMurray.
Out-of-province team eases staffing pressures, boosts hospital ICU
Story by Logan Clow | Photo courtesy Wood Buffalo Media Group
It was a very warm welcome for seven healthcare workers from Newfoundland and Labrador when they arrived at Northern Lights Regional Health Centre (NLRHC) to bolster the hospital's ICU and COVID-19 unit.
The team — four registered nurses, two physicians and a critical care nurse practitioner — arrived over the Thanksgiving weekend in October. After a day of on-site training and orientation, they got right to work for Alberta Health Services (AHS) the next day to ease staffing pressures and boost hospital capacity.
"We're incredibly grateful for the assistance of the Province of Newfoundland and Labrador for providing these experienced healthcare workers to support increased demand and expanded capacity in our hospital," says Murray Crawford, AHS senior operating officer, Fort McMurray.
"These healthcare workers helped alleviate the stress and exhaustion our AHS healthcare teams were facing. We are very thankful to these healthcare workers for their incredible support."
Prior to the team's arrival, the hospital's ICU had faced unprecedented demand for several weeks, with capacity at or near 100 per cent. In instances where the ICU was at capacity, some patients were transferred to facilities outside the North Zone.
Thanks to the arrival of the Newfoundland and Labrador healthcare team, the hospital was able to increase its ICU capacity to 10 beds from eight.
"Their support was incredibly beneficial for us. The team brought positive energy, new ideas and extensive critical care experience to our ICU," says Michelle Van Beek, ICU manager, NLRHC, noting that some of the healthcare workers from Newfoundland and Labrador had also been deployed to Ontario earlier this year to help meet COVID-19 demand in hospitals there.
"They really integrated well with our staff. We saw some great teamwork and collaboration. Everyone worked so well together and supported each other to provide the best patient care."
Catherine Ryskamp, a registered nurse and ICU clinical coordinator at the hospital, was one of many healthcare workers who welcomed the team and worked alongside them.
"Their support was just so incredible. All of them were very experienced working in critical care and they fit in with such ease. They brought such positive energy and they were so eager to help. They really became part of our team," she adds.
Upon their arrival at the hospital, the newcomers were greeted by the flags of Newfoundland and Labrador, proudly flying next to the Alberta and Canada flags, on the main-entrance flagpoles.
"We felt so welcome during our time in Fort McMurray. It was very heartwarming to drive into the hospital to see the Newfoundland and Labrador flag flying," says Rebecca Noseworthy, one of the four registered nurses. "From there on out, we were welcomed with open arms. Everybody was so kind, and we really felt like part of the team.
"You could tell that some staff were burnt out and exhausted after all they've been through over the last 20 months. Even after all that they've experienced, everyone treated us so well and they're all such incredible people. They're working together, working hard and staying positive every single day while providing exceptional care — and that was such a pleasure to see."
Noseworthy has been providing care to COVID-19 patients on the frontlines since the pandemic began. She previously worked in British Columbia until this past summer, when she moved to St. John's.
When the call came to help in Fort McMurray, Noseworthy says it was an easy decision.
"I'd already seen on the news how COVID-19 cases were surging in Alberta, and how some of its hospitals were experiencing capacity challenges as a result. I really wanted to lend a hand and help in any way I could. I immediately knew I wanted to help when I got the call," she adds.
After three weeks in the ICU at the NLRHC, Noseworthy and others flew home at the end of October, after which the hospital returned to eight ICU beds.
"I'm extremely proud of the contributions myself and our team made in Fort McMurray during our time there," she says. "I feel lucky to have been able to work alongside AHS staff in such a trying time. We all worked together so well and made sure patients got the care they needed."