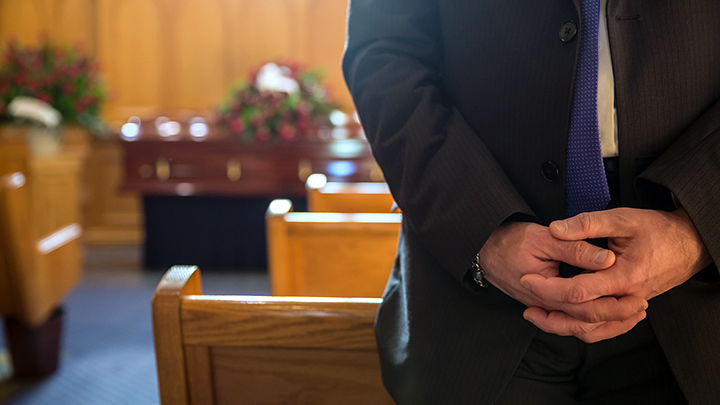 Environmental Public Health strives to educate funeral home industry across North Zone
Story by Logan Clow
Funeral home directors across Alberta are benefiting from education on the safe containment, handling and labeling of bodies thanks to the efforts of public health inspectors with Alberta Health Services' (AHS) Environmental Public Health (EPH).
Over the past year, Karuna Kesavan, a public health inspector based in Lac La Biche, spearheaded education sessions for funeral home operators in AHS North Zone.
"There are many disease-causing agents that may remain in the body of a deceased person — and they can easily spread to a living person through direct or indirect contact," says Kesavan.
"That's why education is so important for funeral home operators and staff. They need to be well-versed and understand the governing laws and regulations set out in the Public Health Act's Bodies of Deceased Persons Regulation. These regulations have been created to protect workers and the general public from infection in AHS hospitals, morgues and within the funeral industry."
To cover the considerable geography of the North Zone, Kesavan has enjoyed the assistance of fellow inspectors Bonnie Segal (Peace River), Rory Peever (Whitecourt) and Ashley Yu (Grande Prairie), who have also conducted education sessions and funeral home inspections.

"We began our work by carrying out preliminary visits in November 2015, to a limited number of funeral homes, to learn more about the industry practices being used to prevent and control the transmission of diseases in all areas where deceased persons were being handled," adds Kesavan.
"After those visits, Environmental Public Health then worked with the Alberta Funeral Services Regulatory Board (AFSRB) to develop and deliver educational sessions for the funeral home industry."
Kesavan, Segal, Peever and Yu led six educational sessions at locations the zone for funeral home operators.
"The education sessions were all well-attended and interactive. They generated a lot of important questions and meaningful discussion. Most importantly, we had a lot of positive feedback from the funeral home operators. The operators found the sessions quite beneficial and informative," says Kesavan.
After the sessions, the team of public health inspectors conducted initial inspections at 23 funeral homes to assess their infection-prevention and control practices as well as compliance with the Public Health Act.
"Currently, we're conducting follow-up inspections with the operators to ensure they're complying with the Bodies of Deceased Persons Regulation," adds Kesavan.
EPH's Bodies of Deceased Persons (BODP) provincial committee is also developing additional education resources for funeral home operators and for volunteers involved in funeral preparations.