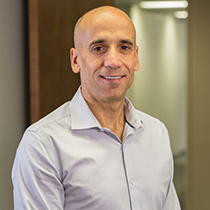 Dr. David Zygun is the Zone Medical Director, Edmonton Zone, for Alberta Health Services.
Dr. Zygun has held various leadership roles with AHS; most recently as the Actng Associate Chief Medical Officer (ACMO), Strategic Clinical Networks (SCNs). Prior to the ACMO role Dr. Zygun served as the Senior Medical Director of the Critical Care SCN, and Adult Critical Care Edmonton Zone Clinical Department Head. Dr. Zygun is a Professor and past first Chair of the Department of Critical Care Medicine at the Faculty of Medicine and Dentistry, University of Alberta.
Dr. Zygun actively practices neurocritical care medicine at the University of Alberta Hospital.
Outside of work Dr. Zygun enjoys cycling and competing in triathlons with his wife, Heather.