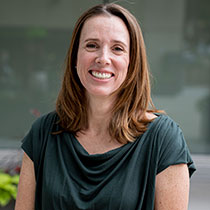 Dr. Kirstie McLelland currently holds the position of Acting Zone Medical Director, Edmonton Zone for Alberta Health Services.
Dr. McLelland has held various leadership roles with AHS; most recently as the Associate Zone Medical Director for Suburban Hospitals, Emergency Medicine and Patient Flow. Dr. McLelland was part of the team which established the Integrated Operation Centre (IOC) in Edmonton and successfully guided the zone through two Connect Care launches as well as multiple waves of COVID-19. Dr. McLelland completed her FRCPC residency in Emergency Medicine at the University of Alberta and worked almost ten years at the UAH Emergency Department.
Outside of work Dr. McLelland spends time outdoors with her husband Moritz, their sons William and David and their two crazy dogs.