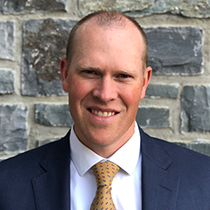 Dr. Aaron Low is the South Zone Medical Director. He shares accountability with Linda Iwasiw, Chief Zone Officer for the AHS South Zone.
Dr. Low took the role of South Zone Medical Director (ZMD) Feb. 1, 2021. He has held a number of leadership positions in AHS, and as ZMD is accountable for all AHS Medical Staff-related matters and, together with the Chief Zone Officer, he is jointly accountable for clinical operations within the zone.
On a personal note, Dr. Low has six children; three girls and three boys, and enjoys hiking and fishing in the mountains with his wife, Jennie, and kids, as well as playing squash.
In 2020, together with Medicine Strategic Clinical Network, he was instrumental in preparation of the new Hospital Medicine Section of the Strategic Clinical Network launch Oct. 8. Since 2017 in his role of Associate Chief Medical Information Officer, Dr. Low was key in development of the Congestive Heart Failure and Chronic Obstructive Pulmonary Disease Care Path working groups.