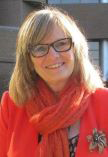 Linda Iwasiw is Chief Zone Officer (CZO) for the South Zone of Alberta Health Services. She shares accountability with Dr. Aaron Low, South Zone Medical Director.
Linda has worked in healthcare in southern Alberta for more than three decades in frontline and leadership roles. She began her healthcare journey in nursing, moving into health administration soon afterward including areas of quality improvement and accreditation, project management, clinical education and frontline management.
Since 2011, she has held senior leadership positions including Senior Operating Officer as well as interim CZO recently and in 2017.
On a personal note, Linda is the proud parent of two sons; one is a General Internal Medicine physician practicing in Calgary and the other is a journeyman tradesman running his own successful business. Her husband Bill is semi-retired and enjoys spoiling their two German Shepherds.