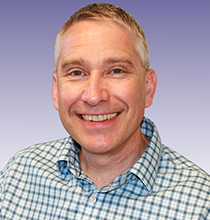 Dr. Brian Muir is the Medical Director for the AHS North Zone. He shares accountability with Gregory Cummings, Chief Zone Officer for the North Zone.
The North Zone Medical Director is a key leadership position in AHS, is accountable for all North Zone Medical Staff-related matters and reports to the Vice President, Quality and Chief Medical Officer and the Vice President and Medical Director, Northern Alberta. This includes the application of AHS Medical Staff Bylaws as well as all operational issues and decisions requiring physician/practitioner input or leadership within the Zone.
Dr. Muir accepted the position of North Zone Medical Director in April, 2019. He graduated from the University of Saskatchewan College of Medicine in Saskatoon and completed his residency in Obstetrics and Gynecology at the University of Alberta in June 1994. Calling North Zone home since 1994, Dr. Muir has had a primary practice in Grande Prairie, regularly traveling to High Level for visiting specialty clinics and surgery.
Over the course of his career, Dr. Muir has served on several committees for the Alberta Medical Association and College of Physicians and Surgeons of Alberta, including the Reproductive Care Committee, Development of Alberta Clinical Practice Guidelines Committee, Physician Privileges Advisory Committee and the Medical Facility Accreditation Committee. Additionally, he has held several front line and middle leadership roles, including Chief of Obstetrics and Deputy Facility Medical Director for the Queen Elizabeth II Hospital in Grande Prairie.
Most recently, Dr. Muir has held the position of interim Deputy Zone Medical Director for North Zone over the last year. He has also been actively involved with the training of staff, students, residents and colleagues in his role of Associate Clinical Professor with the Department of Obstetrics and Gynecology at the University of Alberta.
Dr. Muir has many personal interests which keep him and his spouse, Debra, busy in their spare time including acreage living in Northern Alberta and motorcycling along with their three adult children.