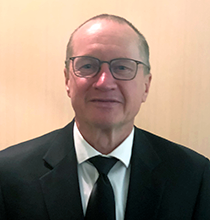 Dr. Albert Harmse is the Acting North Zone Medical Director. He shares accountability with Greg Cummings, Chief Zone Officer for the AHS North Zone.
Dr. Harmse took the position of Acting North Zone Medical Director in December 2019.
He holds a Bachelor of Medicine degree and Master of Science degree from the University of Pretoria, in South Africa. He moved to St. Paul in 2000 where he has been working as a general practitioner.
Dr. Harmse has held several leadership roles throughout his career with Alberta Health Services (AHS). He came to his current position of acting Zone Medical Director in 2019 after filling the role of Deputy Zone Medical Director in 2018 for the North Zone. Prior to these roles, Albert held the title of Chief of Staff at the St. Therese - St. Paul Healthcare Centre from 2007-2009, when the title was changed to Community Medical Director and he held that role until 2018; he was also the Associate Zone Medical Director for Area 8 until 2019.
Dr. Harmse continues to practice as a family physician in St. Paul and says practicing rural/family medicine is his passion and feels that his patient experiences have helped him to succeed in his leadership roles with AHS. He also enjoys practicing sports medicine. When Dr. Harmse lived in South Africa, he was the physician for one of the major rugby teams in the country as well as many track and field events and also coached some of these athletes. When he moved to St. Paul, he continued with his passion of sports and coached both the local community and high school track clubs. He also helped organize the St. Paul Rodeo Mile, the town's annual community race, for 15 years.
Dr. Harmse says he enjoys his current position as Acting Zone Medical Director for the AHS North Zone and says he finds it very challenging and interesting.