Rockyview General Hospital (audio)
Monday, October 6, 2014 10:09 AM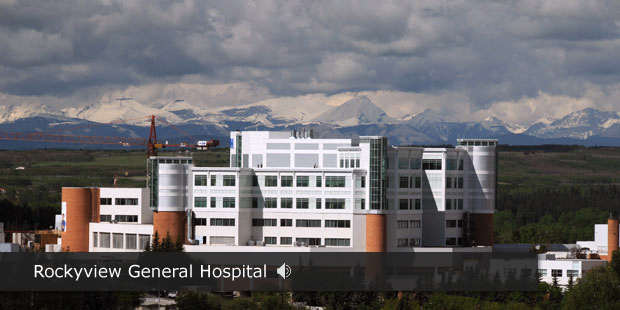 On two days in late September, we experienced significant capacity challenges at the Rockyview General Hospital in Calgary.
This meant that some patients were forced to wait much too long for treatment. These challenges were prompted by an exceptionally high number of patients needing both Emergency Department (ED) care, and admission to the hospital.

 AUDIO: Dr. Francois Belanger, Vice President and Medical Director, Central and Southern Alberta speaks to Global Calgary about capacity at Rockyview General Hospital
This, in turn, prompted our senior leaders to write a memo to staff, outlining the problem, and highlighting some of the work that is being done to alleviate that challenge.
There was no single reason for the increase in demand for services on those days. Our staff and physicians worked hard to ensure everyone was seen and treated despite the higher number of patients.
These numbers have steadied this week.
To address the situation, we activated several over-capacity protocols to manage patient volumes.
These mechanisms are used as a tool to help us manage at times of increased demand on the system.
This includes moving patients to non-traditional spaces on inpatient units and temporarily redirecting non-urgent ambulance arrivals to other facilities.
Capacity remains an ongoing issue at our busiest Emergency Departments.
However, over each of the last three years, our Emergency Departments have experienced a 10 per cent growth in visits while seeing a more complex and aging population. Despite increased patient demand on Emergency Departments across Alberta, wait times at most of our major hospitals have remained stable year over year.
In fact, since 2009, wait-times have generally come down – patients are spending less time in ED waiting rooms and are getting the treatment they need faster and more efficiently.
The average patient's length of time in the Emergency Department before being admitted to a hospital bed is now approximately 8.5 hours, compared with 10.8 hours in 2008/09. We know that is still too long, and we will continue to do all we can to bring that wait time down.
How did we do this? For starters, finding efficiencies and redesigning processes within the ED. This means patients are spending less time in ED waiting rooms and are receiving the treatment they need faster and more efficiently.
Renovating and expanding our facilities, adding continuing care beds and increasing home care resources are all ways we have helped ease the pressure on Emergency Departments. Other ways include treating patients more appropriately in the community by improving access to primary care through Family Care Clinics and Primary Care Networks.
We have implemented programs like Emergency to Home and the Community Paramedic program that aim to reduce the number of avoidable ED visits by seniors by working with Home Care and other community supports to treat people in their homes or residence.
By April 2015, we will add more than 450 continuing care spaces in the Calgary Zone to help reduce pressure on hospital capacity.
Home Care services help keep people in their homes where they want to be. Home Care continues to grow and will provide over 900,000 individual treatments/visits this year. These services have increased by nine per cent over the last year.
There is no single solution but rather a playbook of procedures and protocols to manage exceptionally busy days when we have higher than normal numbers of patients needing admission to hospital.