Capacity challenges at Stollery Children's Hospital
Friday, October 24, 2014 8:54 AM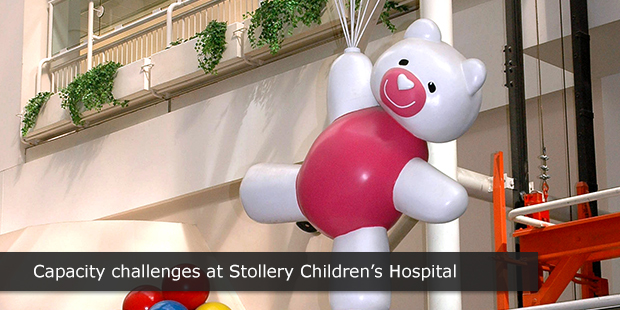 When our frontline staff advocate for their patients – and their hospital – we take those concerns seriously.
Earlier this month, a group of respected pediatric physicians raised concerns with us regarding the ability for us to meet rising surgical demand at the Stollery Children's Hospital in Edmonton.
We recognize the concerns that our physicians have raised, and appreciate their advocacy for their patients. We acknowledge the challenges they are currently facing, in terms of capacity, and will continue to work with them to find solutions.
We are proud of the life-changing care and treatment that takes place at the Stollery every day. Our priority will always be ensuring that patients continue to receive and have access to safe, quality care – even as the population continues to increase.
The record population – and baby – boom that we are seeing in Edmonton and across the province does present significant challenges for us, in terms of ensuring we have enough capacity at our facilities to care for all of our patients, young and old.
We are already working to address current capacity challenges at the Stollery. These include:
- A new pilot program that increased the hours of the Surgical Day Ward for low-risk surgical patients – this involves increasing the unit to 23 hours operation (from 12 hours) which adds capacity beyond the - current capabilities. This is an improvement to the care of children requiring longer observation, but not admission.
- We are working with our physicians to help with timely and appropriate discharges from hospital.
- We are working at ways to move our unscheduled cases through the system as quickly as possible, so that we have the time and resources available to ensure scheduled cases happen without delay.
- We have added 6 NICU beds in the last year and 6 additional beds are planned to open by March 2015.
We know that sometimes, our patients and their families personally feel the effects of capacity issues at our sites, including the Stollery.
We understand that postponing surgeries can be stressful to children and families who have made arrangements to their work and personal lives to prepare for a scheduled surgery.
Surgeons regularly monitor and manage their patients while they await surgery and will escalate cases based on the need for expedited care. Our focus remains on providing a safe and effective care environment for patients and staff.
Some facts about the Stollery:
- Currently the Stollery has 218 beds:
* 81 NICU beds (across two sites – Royal Alexandra Hospital and Walter McKenzie Centre – UAH.)
* 24 PICU and PCICU
* 113 medicine surgery beds.
- There are approximately 8,904 surgeries performed every year at the Stollery.
* Out of province surgeries account for 31% (2,760 surgeries) of total surgeries performed.
* The major services offered at the Stollery that are not offered at the Alberta Children's Hospital in Calgary include cardiovascular surgery, and organ transplant surgery.
- Stollery Children's Hospital operating rooms serve all of central and northern Alberta, as well as parts of British Columbia, Saskatchewan, North West Territories, Yukon and Nunavut.
- Patients receiving inpatient care at the Stollery from outside the Edmonton Zone account for 40 per cent of the patient population.