Release of former Capital Health Region executive expenses
Friday, November 7, 2014 3:19 PM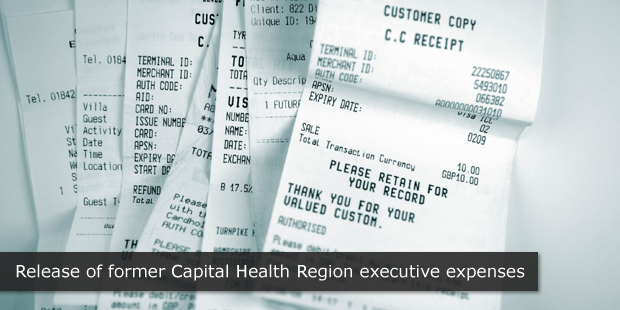 Today, Alberta Health Services posted online the expense reports of a former executive secretary with the former Capital Health Region.
We were unable to post these expenses earlier, as the former Capital Health employee in question had asked for an Office of the Information and Privacy Commissioner inquiry concerning the release of these records, as per her legal right.
That request was recently discontinued, leading to today's public disclosure, as per our disclosure policies and in the interests of openness and transparency.
AHS has posted similar expense records for other executive leaders and board members of the former regional health authorities in the past - again, as per our disclosure policies - and this will continue as approval to release remaining expense records is granted by the Office of the Information and Privacy Commissioner.
It is important to know that these expenses were incurred and approved well before the creation of Alberta Health Services (AHS), when the former regional health authorities were in existence.
The expenses claimed do not reflect current policies and practices at Alberta Health Services, which has built strong, transparent rules for expenditures and has transparent reporting of executive expenditures. All executive expenses are posted monthly on AHS' external website.
The expenses incurred in this instance would be completely unacceptable under current Alberta Health Services' policies and practices regarding executive expenses.
AHS has adopted a comprehensive disclosure policy established by the Alberta Government for travel, meal and hospitality expenses and the public disclosure of approved expense reports submitted by executive staff members. The new policy took effect October 15, 2012.
These changes to AHS' expense policy support our commitment to accountability, transparency and sound financial stewardship.
The expense policy is available at: http://www.albertahealthservices.ca/Policies/ahs-pol-expenses.pdf