Hand Hygiene
Thursday, November 27, 2014 10:39 AM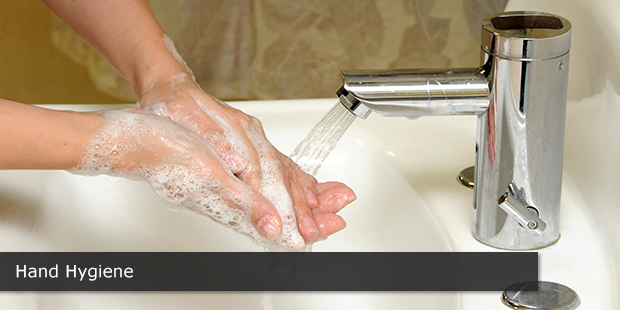 AHS takes clean hands seriously. It is the single most important thing we can do to prevent the spread of infection, and it is why we have spent the last several years investing time and money into improving our hand hygiene rates.
Our patients expect that all of our frontline staff and physicians have clean hands, all the time, and rightly so. Nobody should become ill while in our care because a staff member failed to clean their hands properly.
It is important to know that more of our frontline staff and physicians are washing their hands than ever before - at 73.4 per cent, this year's provincial hand hygiene performance shows the highest compliance yet. That's a 10 per cent improvement over last year and 48 per cent improvement since province-wide reviews began in 2011.
We are proud of our success but we also know we still have a long way to go. Our ultimate goal is 100 per cent clean hands with every patient, every time. Proper and consistent hand hygiene is being ingrained into all aspects of how we provide care and that means better quality and safety for our patients.
In AHS, we train, monitor and report hand hygiene performance according to recommendations from the Canadian Patient Safety Institute. This is based on the four moments of hand hygiene that define those opportunities in routine patient care when hands should be cleaned.
It sounds so simple – just wash your hands before and after any interaction with patient. The reality is, health care is a fast paced environment, staff are often dealing with crisis situations and taking on multiple tasks at once. As an organization, it is our job to work together and continually remind each other of the importance of this one simple task.
Hand hygiene reviews are conducted by highly trained reviewers. This year, AHS introduced a new system for gathering information that allows more timely feedback to physicians and staff.
Reviewers use iPads as they observe staff and monitor their hand hygiene practices. This year, new software called Clean Hands Pro™ was introduced to provide more comprehensive data and automatically generated reports specific to our facilities.
We have put a lot of effort into making sure we have the tools we need to accurately monitor our hand hygiene. This includes not just new technology but also the staff we need to make it happen on an ongoing basis.
Just this month AHS hired hand hygiene project managers in each of our five Zones as well as three full time reviewers in our urban centres and two full time positions in each of the rural Zones. Research shows regular reviews and feedback are the best way to improve hand hygiene. This builds in accountability and opportunities for learning and improving. Having dedicated staff is a vital step in helping support this work.
Along with regular local reviews, province-wide hand hygiene reviews have been done annually since 2011. With 115,584 observations (up from 87,000 in 2013 and 64,000 in 2012) conducted in 131 facilities, the 2014 review is the most comprehensive to-date. This larger sample size provides a stronger representation from sites across the province.
We are confident with the steps we have taken and will continue to raise awareness and support all our health care providers in providing the very safest care possible.