Health care planning for today, and the future - Edmonton 2030 plan
Tuesday, December 2, 2014 5:07 PM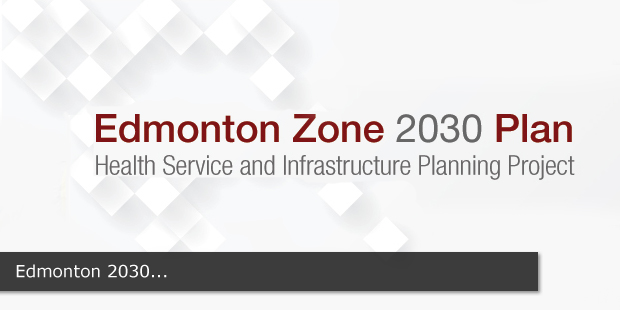 A large part of providing health care services is ensuring that those health care services are there when and where people need them, now and into the future.
Planning for the future is particularly important today, with Alberta – and the Edmonton Zone in particular – facing significant population growth, an increase in births, and an aging population.
The number of people living and working in the Edmonton Zone alone is forecast to increase by one third by 2030. We also anticipate a 121 per cent increase in our seniors population in that time.
That is why AHS Edmonton Zone embarked on a comprehensive, far-reaching planning process to look at health care services and infrastructure supports required to meet the Zone's current and future health care needs.
The Edmonton 2030 planning process is the first long-term planning initiative created for the Edmonton Zone since the creation of the AHS Zone structure three years ago.
When complete, it will provide a detailed database of the current state of our health care facilities across the Zone, and form the basis for future infrastructure and service improvements as required, over time.
Edmonton 2030 Phase One is already providing us with a road-map, in terms of outlining where our infrastructure deficiencies are, and highlighting some short-term strategies that will improve service delivery and relieve capacity pressures at 18 of our facilities.
We have publicly released two reports stemming from this planning process. They are both available on our website, here: http://www.albertahealthservices.ca/about/Page12823.aspx, along with backgrounders that provide further information and context.
The Edmonton 2030 plan will help us most efficiently use and plan for space to meet the needs of patients and families, and to accommodate operational needs of programs and services, while planning for future growth and technology.
AHS needs to ensure we are providing the right programs and services, at the right time and in the right place to meet both current and future demands, in a sustainable manner.
It is important for people to know that we have a wonderful system of health care in Edmonton. We have strong, well maintained facilities and some very new state of the art facilities.
It is also important to acknowledge that there are improvements, changes and investments to make. The Current State report highlights issues at 18 facilities across the Zone - some sites have a long list of identified issues, but that's not necessarily a cause for alarm.
These are large, complex facilities that require ongoing maintenance and investment, and we are continuously maintaining and investing in these sites.  Most importantly, all of our facilities are safe – the health and safety of our patients always comes first.
Whenever we encounter a situation that could impact patient safety, or the operation of our health care programs and services, we address it immediately.
The Current State report is already driving change. For example, we know that we have work to do at a site like Alberta Hospital Edmonton. And that is why we have invested almost $8 million on infrastructure upgrades at that hospital.
In the past four years, AHS and the Government of Alberta have invested more than $260 million to address some of the issues outlined in the Current State report. Many of those improvements are already complete, or in progress.
The other part of the 2030 planning process is the Phase One Final Report. This provided us with a list of potential short-term recommendations that we could implement quickly.
Those recommendations were assessed, and AHS has already moved forward with many of them. Some were reviewed and discarded as impractical or not in keeping with current health care thinking.
It is important to know that this plan is not gathering dust – far from it. For example, we have added a maternal heart health clinic at the Royal Alexandra, and reopened 30 inpatient beds at the Misericordia.
It's important to note that these are recommendations from a planning process.  Some of the recommendations are for future consideration, and some we know already will be acted on, or equally importantly, never acted on.
Health care planning is vital to how we operate our health care system, today, tomorrow and into the future. We continue to work on our 2030 planning process. We are currently working on master planning for several of our largest sites and this will build on the work we have done to date.
One thing is for certain – we can not just carry on with the status quo. We need to ensure the health needs of the population serviced by the Edmonton Zone are met now and into the future, and we must continue to engage with Edmontonians as we proceed with this critical work.