2014 Health Quality Council of Alberta (HQCA) Survey
Thursday, December 11, 2014 1:26 PM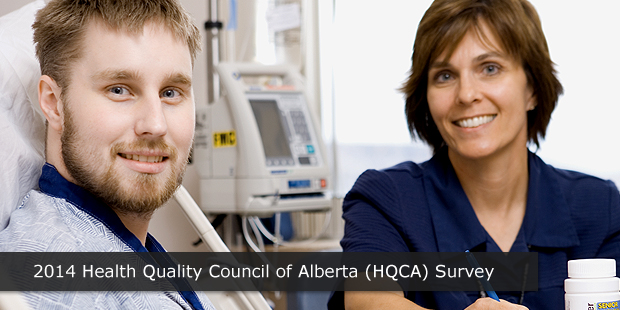 It is vitally important for Albertans to have confidence in their health care system. They expect – and deserve – health care that is timely, effective, and responsive to their needs.
Every two years, the Health Quality Council of Alberta (HQCA) conducts a survey of Albertans, asking them to rate their level of satisfaction and experience with the health care system. The results of the 2014 HQCA survey were released to the public on December 11, 2014.
These surveys provide invaluable feedback to Alberta Health Services from the people who matter most - our patients. From their responses, we can learn a great deal about what is working, and where we need to direct our efforts to make improvements to the system.
We are encouraged by the results. The survey indicates that 66 per cent of Albertans are satisfied overall with the health care services they received. This shows a slow and steady improvement from surveys conducted in 2010 and 2012.
Significantly, 77 per cent of Albertans who received health care in 2014 rated the services as "good or excellent".
Real and significant improvements don't just happen overnight. They grow incrementally as we plan, implement, evaluate, learn from our mistakes and make changes to build a stronger, more responsive health care system.
The increased satisfaction we are seeing is a direct result of the hard work and care that our physicans, front-line staff and clinicians provide to patients, every day. Their dedication and commitment to improving patient care is core to our success as we continue to look for innovative ways to improve care and to be more efficient and effective in our service delivery.
We will share the results of the survey throughout the organization and we will use them to guide us in the coming months. We will continue to engage and include patients and family members across the province, putting them at the centre of their care decisions.
It is important for us to continue to measure patient satisfaction beyond the results of the HQCA survey, and we encourage Albertans to share their healthcare experiences with us. One of the best ways to do this is to engage a patient care manager in an open dialogue about your care or the care of your family member.
Our Patient Relations department is available to hear your concerns, or you can work with your Health Advisory Council, email the office of the Official Administrator or the Office of the President and CEO of Alberta Health Services. There are additional opportunities online to share your story through "Your Voice and Passion for Health", on our external website www.albertahealthservices.ca/passionforhealth
The feedback of Albertans plays a vital role in how we provide health care, each and every day. After all, it is your health care system.