Majority of AHS employees making $100,000 are on front lines
Tuesday, January 13, 2015 1:09 PM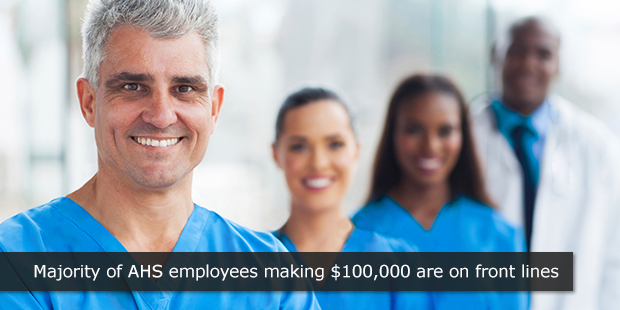 Almost two thirds of all Alberta Health Services (AHS) employees making at least $100,000 a year are working on the front lines of health care.
Information released today through the Freedom of Information and Protection of Privacy Act appears to suggest that the number of AHS employees making more than $100,000 a year has increased.
The explanation for the increase is simple.
The increase in the number of AHS union and out-of-scope employees with total compensation over $100,000 is due in part to having a more complete data source, as all staff are now on AHS' primary payroll system (ePeople); the data source for this report.
When the report was last provided, not all employees were converted to ePeople.
o In 2009 and 2010, approximately 33% of employees were on ePeople.
o In 2011, approximately 63% of employees were on ePeople.
o In 2012, approximately 87% of employees were on ePeople.
o In 2013, all employees were on ePeople.
It is also important to note that the growth in employees making at least $100,000 a year has been primarily in the area of union employees; this includes front-line health workers and includes base salary plus overtime earnings.
Sixty-two per cent of AHS employees making more than $100,000 a year are members of either United Nurses of Alberta (34 per cent), or Health Sciences Association of Alberta (28 per cent).
These unions represent Registered Nurses, Paramedics, Dialysis Technicians, Cardiovascular Perfusionists, Psychologists, Mental Health Therapists and Pharmacists, among others.
In fact, the overall percentage of non-union employees earning this base salary has steadily decreased each year (reduced 13 per cent overall).
AHS compensates its employees in a fair, competitive and fiscally-responsible manner in order to ensure it can continue to attract well-qualified clinical and administrative health care staff across all facets of the organization.
On Jan. 31, 2014, AHS announced a new salary structure for its streamlined senior leadership team. The compensation is based on the median of the public sector market and confirms the elimination of variable, incentive-based compensation.
The purpose of the salary review was to ensure compensation paid to senior management is fair, transparent and comparable to the amounts paid in the public health care sector in other provinces.
Alberta has the lowest health care administrative expenses in Canada (tied with BC), according to the Canadian Institute for Health Information. Alberta Health Services (including Covenant Health) is spending more on patient care and less on administration than any other province in Canada.