Police Officers in our Emergency Departments
Friday, January 16, 2015 9:37 AM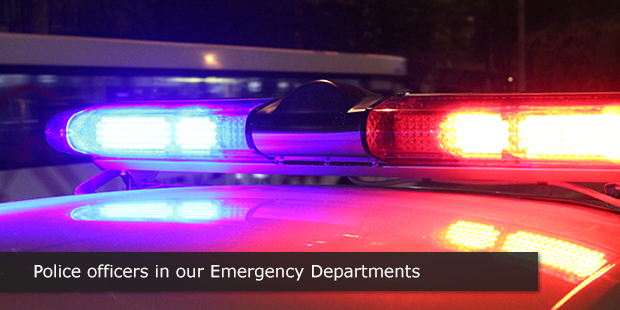 Our Emergency Departments are there for anybody who needs urgent health care – and that includes people who may require treatment for a mental health illness, or are experiencing a mental health crisis.
In the course of their work, a police officer may encounter someone with mental illness, or identify a person who they believe may require urgent treatment for mental health issues.
In these instances, our immediate priority at Alberta Health Services is ensuring that person gets the care they need, but is also kept safe, looked after and monitored until that occurs.
Under the Alberta Mental Health Act, a police officer may issue a patient with a "Form 10", when they believe a person is acting in a manner that could cause harm to themselves or others.
A Form 10 gives the police officer the ability to bring that individual into a designated hospital against their will to be medically assessed.
The patient will be seen and assessed by an Emergency Department physician, and will then receive the treatment they require. However, under the Act, a police officer must stay with the patient until that assessment takes place.
The reason for that is clear – we must ensure the patient is safe from harm. As well, we need to ensure all other patients, staff and physicians in the ED are safe from harm.
Due to the significant demand we are currently experiencing in our EDs – particularly in Edmonton – we know that on rare occasions police officers are spending lengthy amounts of time waiting with a Form 10 patient until they can be handed over to medical staff.
This is a challenge – we know that we need our police officers on the streets doing their jobs, and not in an Emergency Department. However, while there sometimes are delays on the handover, it is important that the patient be safely looked after until that happens.
We recognize the importance of allowing police officers to leave the ED as quickly as possible, and strive to do that at every opportunity. Once a patient is seen by a physician, they can then be placed under constant watch by either Protective Services or a Nursing Assistant, to ensure they are safe as they are receiving further treatment and care.
We are constantly working with police to ensure people they feel require mental health treatment, receive that treatment. We are currently looking at ways we can speed up the handover process associated with patients under Form 10, while ensuring the patient is cared for.
We also have dedicated mental health staff based in both the Emergency Departments at the University of Alberta Hospital, and the Royal Alexandra Hospital. However, the patient must first be seen by an ED physician to rule out or address any other medical conditions (including drugs) prior to a mental health consultation.
And, we have other resources outside our EDs to help people who may be experiencing a mental health crisis.
Our Police and Crisis Team (PACT) is a joint program with AHS and Edmonton Police Service. There are three PACT teams in Edmonton Zone – serving people in Edmonton, the inner-city, and surrounding rural communities (in partnership with RCMP).
We also have PACT teams in Calgary (in partnership with Calgary Police Service) and Grande Prairie (in partnership with RCMP).
The community-based, mobile teams offer help in crisis situations, and can arrange urgent psychiatry assessments and referrals as needed. These teams have helped reduce the number of people with mental health problems coming to our EDs.
AHS is constantly working to address capacity challenges in our emergency departments. Traditionally, this is a particularly busy time of year, and this is certainly the case right now.
ED capacity is a complex issue, with no one solution. We have several initiatives underway to address this issue, including two rapid transfer units currently being piloted in Edmonton and 24 beds at the RAH that are dedicated to mental health patients.
These units are improving ED flow, and are reducing the number of patients in ED beds who no longer need ED care but need admission into an inpatient bed.
We understand that our staff and others such as police officers may be frustrated by ED wait-times, but we are working hard to ease capacity challenges.