AHS announces cost-containment measures
Thursday, February 5, 2015 11:43 AM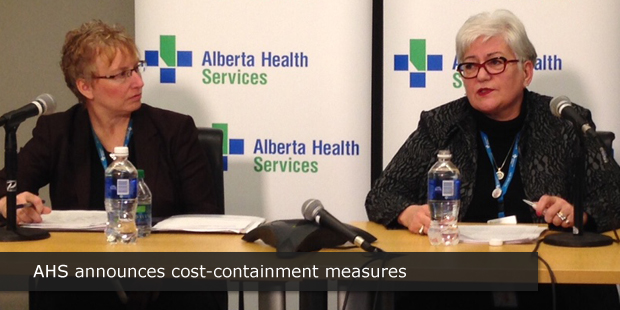 Today, Alberta Health Services announced several steps being taken to contain costs and to ensure that we are being responsible stewards of public dollars in a time of financial uncertainty.
 
The province is facing a potential multibillion-dollar deficit due to falling oil prices. Government is taking steps to reduce expenses and so must AHS.
We have launched several initiatives to contain costs in 2015/16, and we will need to implement further cost-containment measures in the future.
Current initiatives are:
Reducing payroll/staffing costs through a hiring restraint initiative that sees each portfolio carefully considering each and every vacancy and its involvement in direct patient care;
Limiting purchases and use of consultants and external professional services; 
Reducing travel and training costs as part of an overall reduction in grants and discretionary spending;
We have also offered a zero per cent salary growth to our AUPE GSS employees;
We have implemented a Management Salary Freeze that affects all management and out of scope employees. There will be no salary increases for this group in 2015/16;
We are taking a much firmer line on offering severances; 
This week, we launched a new cellphone policy that will control costs, particularly roaming charges; 
We are working to reduce sick leave costs through the implementation of an Attendance Awareness Program;
We are embarking on a benchmarking process that will review our 15 largest acute care hospitals to determine efficiency on productivity and costs; 
We are benchmarking our corporate service areas;
And the CEO will oversee a review of our current management structure to ensure we are as lean and structurally sound as possible to best support our front line workers.
AHS must be good stewards of taxpayers' dollars and we must also continue to provide safe, quality and accessible health care. We know how hard AHS employees work, and we are grateful every day for the care they provide.