Postponed surgeries
Tuesday, March 17, 2015 11:18 AM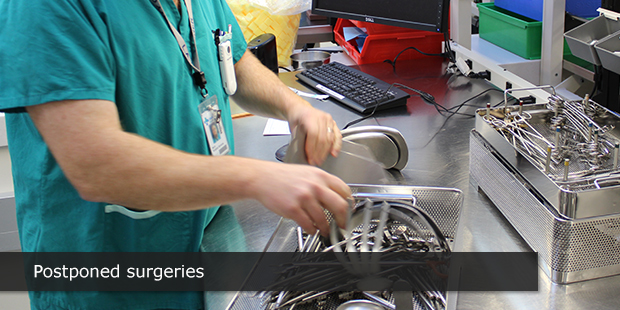 In the past 12 months, more than 206,000 Albertans underwent surgery - whether for an ongoing health problem, or an urgent, potentially life-threatening injury or illness.
These surgeries will often be life-changing. For some patients, it will mean a significant improvement in the way they live their life – a repaired heart, a new and improved hip, cataract surgery that returns the gift of sight.
For others, it will not be planned – an accident victim needing urgent surgery to fix broken bones, a cardiac patient whose heart had stopped, a sick child desperately needing surgery to keep them alive.
This year alone, Alberta Health Services anticipates our frontline physicians and staff will perform 2,400 more surgeries than last year. This follows a $20-million investment to improve access to surgery in Alberta.
However, we know we will also be forced to postpone some surgeries.
This is a reality of health care – while we can put in place a surgical schedule that best meets the needs of our patients, health care is unpredictable and often changes need to be made.
In the fiscal year ending December 2014, 1,376 surgeries had been postponed across the province due to capacity pressures – 0.87 per cent of all surgeries. That means that more than 99 per cent of all surgeries went ahead as planned.
In 2013/14, we postponed 1,465 surgeries due to capacity pressures; the year before that, we postponed 1,309. Again, that represents less than one per cent of all surgeries, each year.
Postponements due to capacity issues may be because of unavailable beds, shortage of equipment and products, lack of OR space, or staffing availability.
The number of surgery postponements has remained relatively static, however this year we have seen a significant increase in demand across the health care system, and this has led to more postponements than in the past.
We acknowledge and understand that postponing surgeries can be stressful to our patients and their families. We know that preparing for surgery can be difficult, and often requires making significant arrangements to work and personal lives.
But, it is important to note that there are myriad reasons for postponing a surgery. In the majority of cases, a surgery is postponed for medical reasons – a patient's condition has changed; a patient is too sick to be operated on; further tests are required.
In other cases, personal circumstances have to be taken into account – a patient may no longer be able to make it to hospital on their scheduled date, for example.
And, if a more urgent case comes into a hospital, that surgery must take priority. This may mean other, less urgent surgeries, have to be rescheduled.
For example, this year we have already had to postpone 200 surgeries at the Stollery Children's Hospital in Edmonton, 90 more than in all of 2013/14. However, we have also seen a spike in emergency surgeries – since January 2015, we have performed 17.4 per cent more pediatric emergency OR cases.
It is true that some surgeries may be postponed because of a lack of capacity, or a shortage of staff. Most surgical patients need complex care before, during and after their surgery, and if this can not be provided the surgery must be rescheduled.
Many of our busy urban hospitals are experiencing significant capacity pressures, and there are times when there may not be a hospital bed available to allow a surgical patient to safely recover.
We are working hard to address these capacity issues, and are adding beds across the province, including acute care, restorative care, and continuing care spaces.
When a surgery is postponed, we work closely with impacted patients to reschedule their procedure at their earliest convenience. Surgical specialty leaders review each postponed case to ensure it can be safely rescheduled.
Patients requiring urgent or emergency surgery always receive the care they need, when they need it.
AHS tracks surgical postponements on a monthly basis. This information helps us understand where the access pressures are in the health system, so we can make appropriate improvements.