How our foundations support patient care
Monday, April 27, 2015 1:35 PM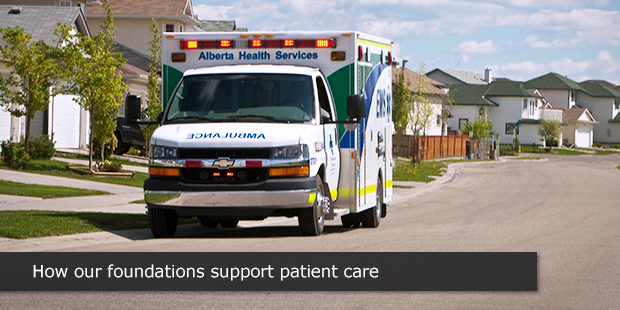 Every day, 68 foundations work hard to support Alberta Health Services' (AHS) in its goal to deliver high quality care to patients across the province.
Over the years, foundation donations have funded specialized equipment, education, programs, research and infrastructure to help enhance healthcare to Albertans.
Rural and urban foundations host both small and large events and campaigns that draw volunteers and donations from their respective communities. Everything from CT scanners and palliative care room furnishings to specialized bereavement programs and training mannequins are supported by AHS affiliated foundations and trusts.
More information about Foundations campaigns and projects can be found here: www.albertahealthservices.ca/give
Like any charitable organization, AHS foundations rely on the generosity of the public. We have been extremely fortunate that many of our staff members have also graciously chosen to support the ongoing work of our various foundations. Their decision to donate is completely voluntary but AHS routinely supports staff by providing the opportunity to make donations through payroll deductions.
Recently, the EMS Foundation sent a memo to EMS staff describing a new campaign to help raise money for a variety of equipment and programs including:
Power-Load Bariatric Stretcher System: These specialized bariatric stretchers help make transport more comfortable for bariatric patients.
Capsule of Life: The foundation provides free capsules where patients – especially seniors – can store important health information. The capsules are stored in refrigerators, so paramedics have fast and easy access to medical information, potentially saving valuable minutes when they matter.
Foundation Heroes: This public recognition program educates youth on the proper use of 911, and recognizes child callers who appropriately used 911, in an emergency, or helped emergency crews during an emergency.
Project Smile: This program provides sick and injured children with a stuffed Medic Moose toy, which has proven effective in decreasing their fears and anxieties and makes the provision of safe care easier.
To be absolutely clear, this standard memo is not suggesting EMS staff are required to pay for ANY equipment. Any suggestions to the contrary are completely untrue.
AHS EMS provides all essential medical equipment to allow paramedics to provide safe, quality and timely care. Once again, the decision to donate money to the EMS Foundation, or any other charitable group, is completely voluntary.
We are extremely proud of our staff's willingness to support worthy causes in their communities and will continue to support their giving efforts in whatever way we can.