Precautionary postponements of surgeries (Edmonton)
Tuesday, May 5, 2015 11:20 AM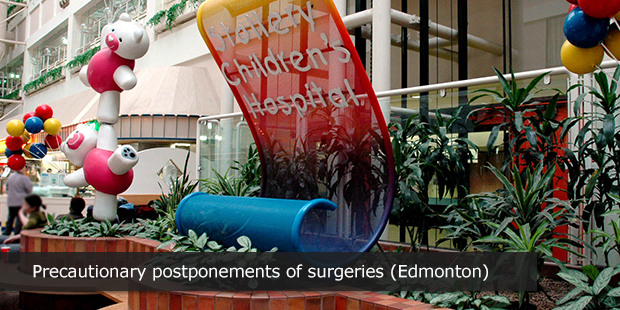 Postponing surgeries, or any other important medical procedures, is not something we take lightly.
However, sometimes such a difficult decision is necessary, to ensure that we provide safe care for our patients and a safe working environment for our staff.
On May 4, 2015, AHS postponed 23 procedures at the Walter C. MacKenzie Health Sciences Centre, which includes the University of Alberta Hospital, Mazankowski Alberta Heart Institute and Stollery Children's Hospital.
This decision was taken as a precaution while AHS - with assistance from the Edmonton Police Service - investigated an email received by an AHS staff member. This e-mail potentially threatened the safety of some of our operating room equipment.
In addition to our existing processes, which ensure physicians and technicians routinely complete independent equipment checks, an additional precautionary assessment of main operating room equipment took place.
Following this work, it was decided late on May 4 that we would proceed with all scheduled surgeries and procedures.
Following an in-depth investigation as well as additional safety precautions, we are confident in the decision made by AHS physician and senior leadership to proceed with all surgical procedures.
If patients or their families have any concerns or questions, we encourage them to discuss them with their physician or care team.
The ongoing safety and care of patients, their families and our staff is our chief priority, and we will continue to make sure this is upheld.