Pediatric living liver transplants
Monday, June 8, 2015 1:47 PM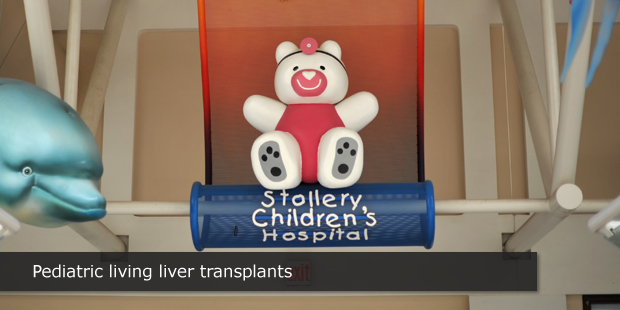 Alberta Health Services – and in particular, our transplant team – is a leader in living liver transplants, both nationally and internationally.
Since 1998, more than 50 children have benefited from what is essentially a gift of life – a donated liver, from a living family member or close friend.
Our living liver transplant program at the University of Alberta Hospital and Stollery Children's Hospital provides life-saving treatment and care for children from Alberta, Saskatchewan, and British Columbia, Yukon and Northwest Territories.
When a patient comes to us needing a new liver, we do all we can to ensure that they receive the treatment they need.
Currently, AHS accepts living liver donations who are blood relatives – usually a parent, sibling, child, grandparent, grandchild, niece or nephew.
We also accept a person who is not a blood relative, but who has a close relationship with the organ recipient – often a husband or wife, partner, in-law or close friend.
Edmonton's first pediatric living liver transplant was performed in 1998. Since that time, all Stollery pediatric patients who were eligible for a living liver donation have had a family member or family friend with a relationship to the recipient been identified as a suitable donor for transplantation.
That said, it is important we continue to explore ways to maximize the number of organs that are available for our patients waiting for organ transplants, in a safe way that is ethically sound.
We are reviewing our living liver donation protocols and procedures to improve access to donor organs and to ensure the safest and best outcomes for living liver donors and transplant recipients.
To date, AHS has not performed an anonymous living liver donation.
There are medical and ethical reasons that need to be considered prior to proceeding with an anonymous living liver donation. For example, there is higher risk involved in living liver donations than kidney donations; and, we also need to ensure that a donation is being done for the right reasons.
This review is taking into account all potential medical and ethical issues, with patient safety taking priority, as always.