Alberta Health Services works to resolve cyclotron breakdown
Wednesday, October 21, 2015 11:14 AM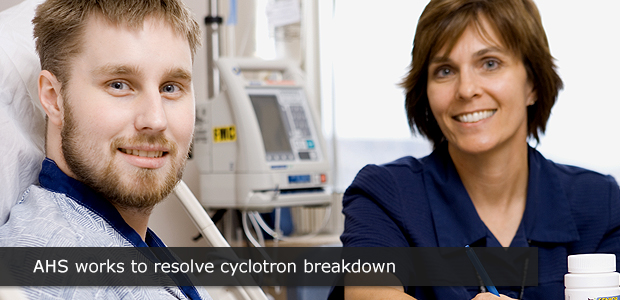 Some patients requiring PET/CT scans are having their scans postponed due to a mechanical issue with a machine that produces the material required to do the scans.
Positron emission tomography/computed tomography scans – or PET/CT for short – are an important diagnostic tool. They provide detailed images of cell function in the body and are used to diagnose many types of cancer, epilepsy and dementia, as well as check if a disease is regressing or if treatment is working.
The scans are carried out at Foothills Medical Centre in Calgary, and the University of Alberta Hospital and Cross Cancer Institute in Edmonton.
PET/CT scanners require a material called fluorodeoxyglucose (FDG) in order to carry out scans. This material is produced daily in Edmonton in a large machine called a cyclotron.
On September 28, the cyclotron suffered a mechanical breakdown, causing an eight-day shutdown. Alberta Health Services (AHS) sourced FDG from other provinces in order to address urgent cases - but it was not enough to do all scheduled scans; about 180 patients had their scans rescheduled.
On October 14 it suffered a second mechanical breakdown linked to the first shutdown, and is expected to be down for at least another week. In regards to the current cyclotron outage, 69 patients (40 in Calgary and 29 in Edmonton) have so far been told their PET/CT scans have been postponed and will be rescheduled for a later date.
In Calgary, we are able to perform approximately 13 scans a day (normally we can perform 19). In Edmonton, we are able to perform approximately 23 scans a day (normally 30).
AHS sincerely apologizes for any inconvenience these delays have caused to patients and their families. We know this is causing stress and anxiety and we are doing all we can to fix it. Some scans continue to be done; decisions are made based on clinical acuity. Patients with higher acuity will have their scans done first.
We have been contacting all affected patients to reschedule appointments. We are aware that some patients have already had their scans rescheduled twice, and apologize for that; sites are taking steps to ensure that, where possible, patients are not rescheduled a third time.
AHS will proactively reimburse out-of-town patients for travel and accommodation costs incurred due to rescheduled appointments.
We are doing everything we can to fix the cyclotron and have it up and running as soon as possible. All PET/CT are being rebooked to take place as soon as possible and are scheduled according to urgency as determined by our radiologists. Scans will be performed on weekends in order to accommodate more patients.
It's important to note that while the machine produces an end product that is radioactive, no radioactive materials are involved in the machinery failure and it does not pose any risk to the public.
The Edmonton cyclotron is Alberta Health Services' sole supplier of FDG. The cost of the cyclotron and the construction of the building to house it would cost between $5 million and $10 million. Breakdowns have been extremely rare in the past. We are assessing the feasibility of building a second cyclotron capable of producing FDG in Calgary. Decisions about a project of this magnitude need to be balanced with other health care priorities.
Please be advised, the mechanical issue with the cyclotron only affects PET/CT imaging, which is one specialized test. All other scans, including regular CT scans, are not affected and appointments will be held as scheduled. AHS will contact any patient prior to a postponement of a PET/CT scan.  Patients awaiting a PET/CT scan who have questions or concerns can call the Diagnostic Imaging location where their appointments were originally scheduled:
Foothills Medical Centre: 403-944-1601
University of Alberta Hospital: 780-407-7452
Cross Cancer Institute: 780-432-8465