Cancer care in Alberta remains strong, focused on provincial care
Friday, October 23, 2015 11:34 AM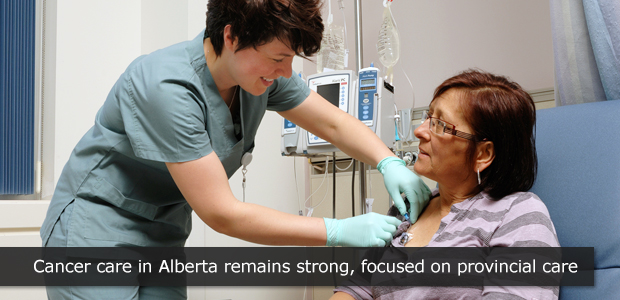 Cancer care in Alberta remains strong, focused on provincial care
Alberta Health Services remains committed to a strong, provincial cancer program as we believe that provides the best possible care, support and services to cancer patients and families.
A recent change to the leadership of the cancer program does not change this commitment.
Our focus is on providing patients with great care. Cancer is a serious illness that affects Albertans and their loved ones and this is where we will put our attention. Our job is to make sure that every cancer patient receives individual and personalized care to the best of our abilities, and to make sure that families and patients are involved in care decisions and that they feel supported throughout.
Cancer care and treatment across the province is about many people, all dedicated to providing the best care for patients and families. AHS is built on teamwork; success comes through the hard work of physicians, nurses, cancer navigators and staff of all kinds working each day to provide excellent care.
We also have a strong and qualified group of leaders. In light of the recent departure of Dr. Paul Grundy, two senior leaders – Nancy Guebert and Dr. Matt Parliament – will ensure the direction and goals remain the same: to be a leader in cancer prevention, diagnosis, treatment, survivorship and palliative care, all on a foundation of world-class research.
Nancy Guebert is a highly qualified operational leader with extensive experience in administration and in cancer care. As a surveyor for Accreditation Canada she has deep knowledge of most cancer programs in Canada and will bring a patient centered approach with a strong focus on quality safety and performance.
Dr. Matt Parliament is well known to all within cancer care in Alberta. He is Medical Director at the Cross Cancer Institute and has taken on additional responsibilities as the Interim Senior Medical Director for the province while AHS launches a national search for a permanent candidate. Although this is a national search, we do foster local talent and hope that hope that some will put their name forward.
We are fortunate in Alberta to have thousands of physicians, nurses, care providers and volunteers whose sole focus is on caring for people first and that will not change.
Cancer care in our province remains unchanged; we will reduce the impact of cancer on all Albertans and provide expert care and support for patients from their first symptom to survivorship, today, and in the future.