Ensuring our housing is safe and healthy
Tuesday, December 22, 2015 11:23 AM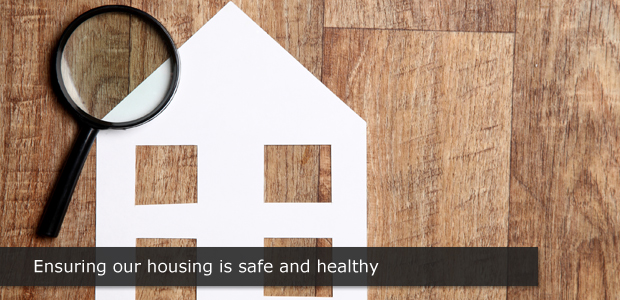 Every day, Environmental Health Officers (EHOs) with Alberta Health Services are in the community, working to protect and promote the good health and well-being of Albertans.
A large part of their work is focused on ensuring Albertans are living in safe, healthy and hospitable environments. This ranges from rental apartments, to condo buildings and basement suites.
The EHOs who work in our Safe Built areas spend their days inspecting housing premises - identifying and requiring the correction of conditions in and around them. Their goal is simple – to ensure housing is safe for people to live in.
There are a number of triggers for AHS's involvement in a housing inspection including a public complaint or referral, monitoring or risk management - re-inspection based on past problems at a specific premise.
If deficiencies are noted during an inspection, the owner is notified by letter or an Executive Officer Order and given a time frame to take corrective action. EHOs work with owners to repair deficiencies but it is the owners' responsibility to ensure the repairs are made.
In some cases, an EHO may determine that a housing premise is in a poor state of repair, and that continued occupancy may unnecessarily expose persons to a condition that is or that might become injurious or dangerous to their health.
In such circumstances, the EHO may decide to issue an order declaring the premise to be Unfit for Human Habitation or an order declaring the premise to be Closed for Tenant Accommodation.
It is incorrect, and unfair, to suggest that we do not re-inspect premises that we have deemed unfit for human habitation.
Our officers re-inspect premises whenever we receive a complaint or information from the public that requires re-inspection. This could include people living in a premise that has been deemed unfit for habitation, or the removal of signage required to be in place by Public Health legislation. It can also include a complaint from a resident or tenant.
These complaint-driven inspections are completed in addition to inspections done in response to a request for re-inspection by a responsible landlord, working on correcting the issues noted in the unfit orders.
In addition, in September 2015, Environmental Public Health implemented a new policy that requires all premises already under a closure order to be re-inspected within six months.
This year, in Edmonton Zone alone, we have completed 118 inspections of premises that either are - or have been - the subject of either a closure order or an unfit for human habitation order. Many of those inspections were, in fact, re-inspections.
It is the owner's responsibility to ensure that once their premises have been declared Unfit for Human Habitation or Closed for Tenant Accommodation, that they are monitored to prevent re-occupancy until such time as any unsafe and unhealthy conditions have been mitigated and the order is rescinded by an EHO.
These Orders are carried out to help prevent illness or injury due to poor housing conditions.
EHOs will continue to work with owners/occupants and re-inspect until desired corrective action has been achieved. Re-inspection will depend on the circumstances of the case.
Our priority is to ensure that individuals have safe and healthy living environments.
We encourage anyone who has concerns about an accommodation to contact our Environmental Public Health team at 780-735-1800.
We also encourage landlords to work closely with our inspectors throughout this process.