AHS EMS slowing down to save lives
Tuesday, February 16, 2016 12:56 PM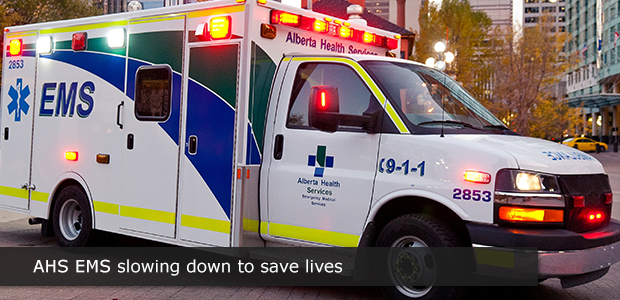 When it comes to responding to emergency calls, Alberta Health Services EMS's primary responsibility is to deliver safe and effective patient care. This includes responding to calls and getting patients to hospital safely, while at the same time ensuring the safety of other motorists and EMS staff.
A report in Calgary's Metro newspaper today suggested that changes to our speed limit policy would result in longer EMS response times.
We want to be very clear; changes to ambulance driving speeds are being made solely with the safety of patients, staff and the public in mind and will not put patients at risk.
As of February 19, 2016, AHS EMS vehicles will be permitted to drive 15 km/hr over the posted speed limit when responding to emergencies and transporting patients.
The current policy allows EMS vehicles to travel 25 per cent faster than the posted speed limit. That means if the posted limit was 100 km/hr, crews could drive 125 km/hr. The new policy reduces that to 115 km/hr, which is in line with standards set in other jurisdictions in Canada.
Patient care will not be negatively impacted by this policy change; in fact, patients will benefit from a higher standard of care in a safer emergency care environment.
Ambulances are not built for high-speed driving – they are designed to provide high quality patient care. When an ambulance is transporting a patient to hospital, a paramedic is in the back of the ambulance, with the patient, providing care. Travelling at high speeds in these situations increases the risk of collision that could be catastrophic to the patient, to staff and to members of the public.
Metro's story quoted an unnamed paramedic who said that that the policy change will increase response times. In most cases, this is simply not true. Many factors affect the speed of EMS vehicles, including weather, traffic and road conditions and construction. EMS vehicles only exceed the speed limit when it is safe to do so.  It is rare that an ambulance will actually exceed the speed limit, especially in cities where the majority of ambulance calls take place.
There are other ways that EMS responds quickly besides driving above the speed limit, including using lights and sirens, the cooperation of other motorists and having right of way over other traffic at red lights and stop signs. When time is determined to be a life-saving factor, we also have the ability to request air ambulance support, like STARS.
It's also important to note that speed isn't the only factor in providing high quality care. Regardless of how fast our crews are travelling, patients receive professional care from the moment our crews arrive on scene until the patient is either released or transferred to the care of physician.
Every decision we make is made in consultation with EMS leaders and staff with our prime focus always being the safety of our patients and our staff. Our feedback from the majority of staff so far is that this policy promotes safety, will improve patient care and is the right thing to do.
We are proud to deliver high quality EMS care to hundreds of Albertans every day and will continue to deliver high quality care every time you call help as quickly and safely as possible.