Temporary closure Red Deer Regional Hospital operating rooms
Thursday, March 3, 2016 2:52 PM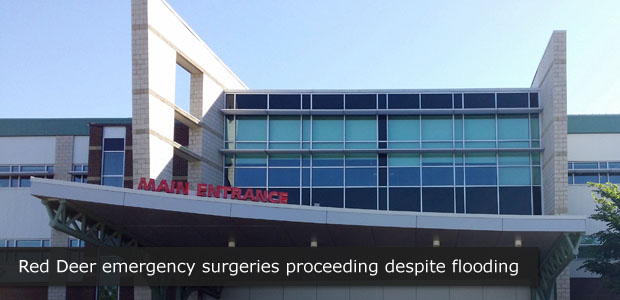 Four of nine operating rooms at Red Deer Regional Hospital Centre were temporarily closed March 1 following a flooding incident. On March 6, some water damage was discovered between the walls of an additional OR, bringing the number of temporarily closed ORs from four to five.
Some surgeries are being postponed, although urgent and emergency surgeries will proceed without delay. Patients are being directly notified if their surgery is being rescheduled.
We have increased the hours in the operating rooms we still have in use, meaning some high priority surgeries will be scheduled in the evenings in an effort to see as many patients as we can. Some surgeries may also be diverted to other nearby hospitals.
Alberta Health Services (AHS) regrets the inconvenience these temporary closures may have on patients and their families.
Clean up and restoration work is well underway in the areas that sustained water damage, which was caused by construction work taking place on site.
Patient safety is a top priority at AHS, and all safety measures and standards must be in place before the affected operating rooms are reopened.
We want to thank staff and physicians for their quick response and reaction to this situation, and to all of you for your patience during this time.
~Kerry Bales, Chief Zone Officer, Central Zone and Dr. Evan Lundall, Zone Medical Director, Central Zone